Distance learning, training, and coaching options for more effective and efficient learning solutions.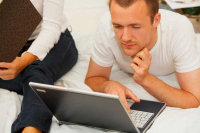 Gain access to distance learning courses for self-led study and learn at your leisure. Arrange online classroom training and individual coach led sessions.
Follow these links for access to published distance learning courses:
Materials include a study guide, planning and preparation tools, progress assessments, ongoing performance tips, and career long support.
All other courses are available in a distant learning configuration accessible online, subject to 10 days notice.
Large Numbers
Licensing and train the trainer options enable third party and in-house provisioning of these courses. To find out more, telephone +44 (0)1392 851500 or use the links below.
Sales Associate and Affiliate representation welcomed. If you are interested in promoting or delivering SalesSense courses, get in touch directly or use the contact form here.
Flexible Support
If you are looking for distance learning solutions for salespeople we can help. Telephone +44 (0)1392 851500. We will be pleased to learn about your needs and talk through some options. Alternatively Send email to custserv@salessense.co.uk for a prompt reply or use the contact form here.