Sales methods, practices, and skills presented in easily accessible articles, reports, and audio recordings.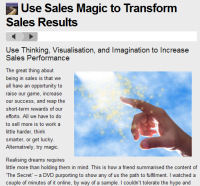 Scroll Down for the Articles
The wisdom of the world and the expertise of masters is locked up in millions of articles. Most are freely available to those prepared to invest a few minutes in searching for the right resource and a few minutes more to read and absorb the learning.
The sales articles linked below represent the crème of those we have written and collected since 1996. Browse our best know-how articles collected over fifteen years. Subscribe here for content news and updates. Subscription includes access to the following complimentary resources:
Sales Aptitude Assessment
Sales Skills Assessment
Sales Win Predictor
eBook - Currently Think and Grow Rich
Sounding Board - Expert Advice
Join the LinkedIn SalesSense Group and engage in a two way dialogue about important topics. Leave your thoughts for the enlightenment of other readers. Include links to relevant resources.

Join here Visit our blogs for more: The SalesSense Blog is focused on sales issues and news for those who sell technology, software, or know-how based business solutions:

SalesSense Blog
My personal blog free wheels to encompass a wider set of ideas and issues:

Clive Miller's Blog
Follow the links below to explore our archive of sales resources and sales articles or search this site for answers to any question. Don't miss out on regular content updates, sales articles, new ideas, and solutions. Subscribe for sales news.
For more information telephone +44 (0)1392 851500. We will be pleased to discuss any sales issue. Alternatively Send email to custserv@salessense.co.uk for a prompt reply or use the contact form here.