Booking page for assessment grading by a SalesSense coach.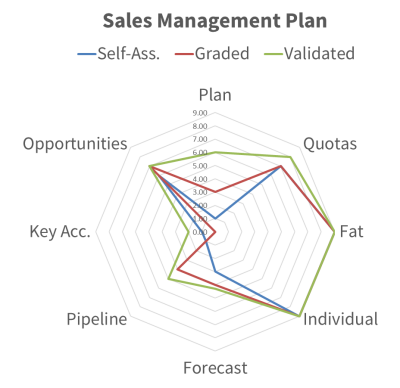 Have skills, knowledge, habits, abilities, and organisation self-assessment scores graded for verification and review. Assessment grading provides and independent review of the evidence.
Available assessments include:
Sales Skills
Sales Knowledge
Sales Management
Sales and Operations Plan
Marketing Plan
Sales and Marketing Alignment
Rate knowledge, skills and habits against assessment statements. Answer corresponding substantiation questions to provide evidence. Then have assessment grading carried out by an accredited SalesSense consultant. 
Assessment Grading
Grading provides an independent evaluation of self assessment scores based on the evidence provided. The written personalised feedback corroborates self assessment scores and offers easy action based development and improvement recommendations.
Assessment Validation
Optionally include assessment validation through a 90 minute interview. Validation involves discussion of each assessment assertions and independent, outside looking in, expert feedback based on comparison with established best practice.
Applications Include:
Skills Assessment
Staff Appraisals
Development Guidance
Training Needs Analysis
Interview Preparation
Recruitment Selection
Career Development
Grading Includes:
The Assessment
Substantiation Prompts
Tabulated and Charted Assessment Results
Grading Report
Grading Certificate
Booking Options
Security Note
Checkout is via the Pay Pal portal. We do not collect any credit card information on this site. All transaction information is processed on Pay Pal secure servers.
Guarantee
We unconditionally guarantee the quality and effectiveness of our services. In addition, we warrant that application of the principles, methods, and practices presented in our materials will lead to a gain in value equivalent to at least five times the fees. Should you decide that our services have not met this guarantee, we will refund your fees promptly and courteously.
If you need independent verification of skills, competence, organisational sales readiness, or go to market plans, our sales assessment, grading, and validation options offer a reliable and flexible solution. For more information telephone +44 (0)1392 851500. We will be pleased to learn about your needs and talk through some options. Send email to custserv@salessense.co.uk for a prompt reply or use the contact form here.