Learning short cuts for developing professional selling skills.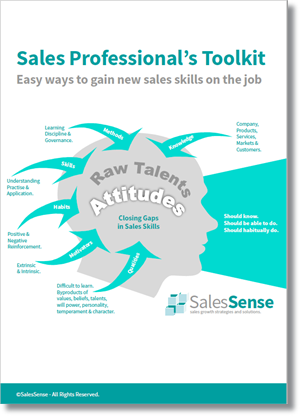 Complete the form below to obtain your copy of this professional selling skills development manual. Use it to expand your abilities or as a coaching framework to help your team succeed.
You can learn about business to business sales skills through online research. Half a dozen inexpensive sales books will provide the same information. Yet no amount of study embeds the methods and turns them into reliable habits.
This toolkit is designed to serve specific needs through on-the-job actions that increase knowledge, develop skills, and improve sales performance.
An expanded version of our sales skills assessment is included. It contains a compete set of validation questions that can be used to test self assessment scores.
The assessment and associated on-the-job actions are hyperlinked. It is easy to find and use only what you need, just when you need it. 
Add this comprehensive professional selling skills resource to your library now.
Complete this form to obtain your copy: