Assessment and validation of sales knowledge through interview questions aligned with our Sales Knowledge Challenge.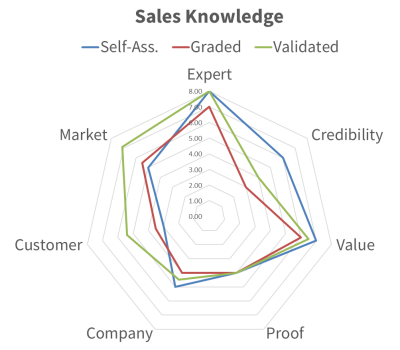 Rate sales knowledge against thirty statements and use carefully crafted evidence questions to reveal competence.
Use this tool to review or validate the knowledge of team members, partner salespeople, or sales job candidates. The interview questions can be used in conjunction with the the separate Sales Knowledge Assessment or in isolation to assess the knowledge of any number of salespeople.
Use the supplementary questions as prompts to support training needs analysis, sales readiness assessment, staff appraisals, coaching guidance, and interview selection. Easily identify strengths and weaknesses, opportunities and vulnerabilities.
Interview team members or job candidates via an online meeting or voice call and use the question prompts to guide the conversation.
Knowledge and Training Needs Analysis
Each of the assessment statements is complemented with an evidence question. Asking the evidence questions prompts discussion of the underlying subject knowledge that justifies the assessment rating. Reviewing the evidence reveals knowledge depth and training or development needs.
Coaching Guidance
Use any single statement and evidence question combination as a basis for one minute coaching. Select on-the-job learning actions from aligned assignments designed to develop knowledge on-the-job.
Help salespeople enhance and leverage strengths and eliminate or account for weaknesses. Improve sales knowledge to increase sales productivity, predictability, and results.
Recruitment Selection
Use the statements and evidence questions to test for claimed knowledge during the interview process and eliminate the guesswork.
Assessment Subjects:
Company understanding.
Products, services and solutions expertise.
Value created for customers.
Markets addressed.
Customers served.
The customers buying journey.
Sales process.
Proof articulation.
Assessment Applications Include:
Sales knowledge evaluation.
Guidance for coaching.
Self development guidance.
Training needs analysis.
Recruitment and selection.
Career development.
Feedback includes:
Tabulated ad charted assessment results..
Development recommendations.
Sales professionals toolkit.
Coach observations.
Optional Assessment Grading and Validation Services
Have responses graded by an accredited coach and receive a detailed feedback report.
Ratify competence and receive comprehensive written feedback based on a ninety minute one-to-one validation interview.
If you need a way to improve sales knowledge or assess training needs, in terms of familiarity and understanding of products, markets, customers, and the company, we can help. Telephone +44 (0)1392 851500 for more information. Send email to custserv@salessense.co.uk for a prompt reply or use the contact form here.