Use this sales manager assessment to evaluate sales management skills and competencies.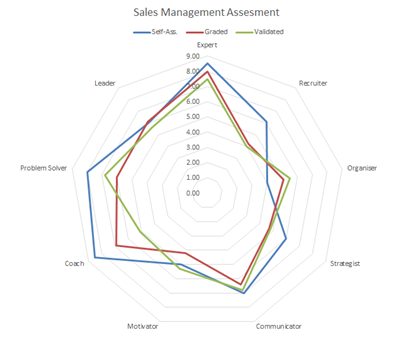 Rate sales management skills against thirty seven statements and 9 perspectives of sales management competence. Sales manager assessment supports appraisal, training needs analysis, development, and selection.
Substantiate self assessment by answering corresponding sales management exam questions.
Use the assessment to test learning, verify competence, identify strengths and weaknesses, recognise opportunities and address vulnerabilities. Use the feedback to guide training, plan study, and drive development. Optional responses grading or comprehensive coach review are available with the assessment.
Aspects of the Assessment:
Expert
Recruiter
Organiser
Strategist
Communicator
Motivator
Coach
Problem Solver
Leader
Assessment Applications Include:
Sales Manager Appraisals
Development Guidance
Training Needs Analysis
Interview Preparation
Sales Manager Selection
Career Planning
Purchase includes:
Sales Manager Online Self-Assessment
Sales Skills Review Assessment (30 days access)
Sales Knowledge Review Assessment (30 days access)
Represented Self Assessment Results
Discount Voucher for Assessment Grading
Have us grade self-assessment results or validate skills through a comprehensive one to one coach review.
The self assessment is included with the grading and validation options.
If you are looking for a sales manager assessment or need to assess sales management skills, we can help. Telephone +44 (0)1392 851500 for more information. We will be pleased to learn about your needs and talk through the options. Send email to custserv@salessense.co.uk for a prompt reply or use the contact form here.