Sales skills assessment and learning shortcuts for professional selling skills and habits.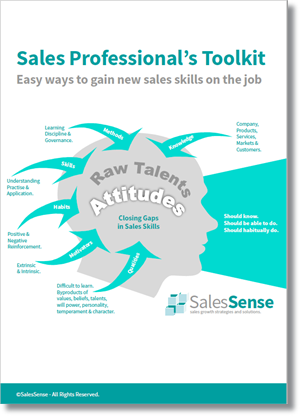 Use this professional selling skills development manual to accelerate on-the-job learning. Expand your own abilities or use it as a coaching framework to help team members succeed.
You can learn about business-to-business sales skills through online research. Half a dozen inexpensive sales books will provide the same information. Yet no amount of study embeds the methods and turns them into reliable habits.
This toolkit is designed to serve specific needs that are identified through the included assessment. Results are aligned with on-the-job workplace actions that increase knowledge, develop skills, and improve sales performance. The combination provides an efficient, personalised, self-led development programme that stimulates fast learning and immediate improvements in sales results.
The sales professionals toolkit presents a comprehensive sales skills assessment that includes a complete set of validation questions that ensure self-assessment accuracy.
Score thirty statements grouped according to ten critical aspects of B2B sales competence, then answer the validation questions to test your self-perceptions. Decide which aspects to improve and then jump directly to the workplace actions that will help you develop the skills, acquire new methods, and adopt better habits.
The assessment and associated on-the-job actions are hyperlinked so it is easy to find and use only what you need, just when you need it.
Managers Coaching Aid
As a manager, use the toolkit to clarify individual strengths and weaknesses, guide team member coaching, and assign workplace actions to influence behaviour, stimulate learning, and drive sales results. Select from over one hundred on-the-job actions designed to prompt learning while having a positive impact on active sales opportunities and campaigns.
Add this comprehensive professional selling skills resource to your library.
Order a copy for the whole team. For volume discounts or facilitated assessment, call us now on 01392 851500, send an email to jimm@salessense.co.uk, or use the contact form here.
Document Only - We will send you the Sales Professionals Toolkit immediately.
Document and Author Consultation - Includes a one-on-one session with Clive Miller.
Document and 12 Months Support - Through coaching, phone calls, and email.
Buying Options:
Security Notes
Checkout is via the Pay Pal portal. You do not need a PayPal account. 
We do not collect any credit card information on this site. All transaction information is processed on Pay Pal secure servers.
Guarantee
We unconditionally guarantee the quality and effectiveness of our services. In addition, we warrant that application of the principles, methods, and practices presented in our materials will lead to a gain in value equivalent to at least five times the fees. Should you decide that our services have not met this guarantee, we will refund your fees promptly and courteously.
Note: Quoted fees exclude VAT chargeable in the UK.
Terms of Site Use and Terms of Supply apply.
If you are looking for a professional selling skills assessment or need to increase sales performance, we can help. Telephone +44 (0)1392 851500. We will be pleased to learn about your needs and talk through some options. Alternatively, send an email to custserv@salessense.co.uk or use the contact form here.