How Clive Miller came to start SalesSense and what the firm has done since.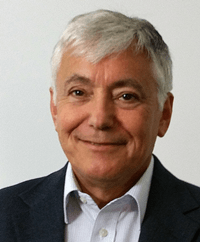 Early years working in avionics and electronics developed Clive's technical and problem solving abilities. Building instruments for the nuclear instrumentation industry and programming the earliest microprocessors provided his hardware and software foundation.
Clive Miller's sales career commenced in 1979 when he joined Intel Distributor, Rapid Recall. He progressed through field sales and product management roles before joining a PC reseller and then Sun Microsystems focusing on new business territory sales. After setting up and managing Sun's UK reseller programme, he joined SGi to do the same.
In 1992 he was assigned the role of managing SGi's UK national territory sales team. In his last full year at SGi he led a team of 26 to achieve £39m against a £34m sales target. This is reflective of the sales performance generated through his seventeen years in sales and sales management.
In 1996, as the market for technical workstation solutions shifted towards PC technology, Clive left to start SalesSense.
For World Check, an 18 month programme of sales training workshops for the EMEA team led to an average per person performance increase of 32% compared with the rest of the world including the US. Following this programme, Reuters acquired World-Check. They now form part of 
Thomson Reuters Risk Management
.
For nCode we designed and delivered a 2 year programme that helped them merge software and hardware sales teams. The programme commenced with a comprehensive sales skills, abilities, and habits assessment using our tools. A series of workshops and coaching sessions followed. The average per person sales yield increased 9%. Overall improvements helped attract HBM, a large German instrument manufacturer who acquired the Company. They now operate as 
HBM Prenscia
.
Hand Held Products asked us to help them increase sales performance to achievement a 50% two year growth target. We delivered a series of workshops and coaching sessions. Soon after the successful completion of the effort, Hand Held Products were acquired by Honeywell. They are now part of 
Honeywell Productivity and Workflow Solutions
.
A series of key account management programme for Wheel established consistent handling of high profile accounts. Increased performance and status of this Digital Agency led to a merger with a number of similar company's to form
DigitasLbi
.
Personal Statement by Clive Miller
It has been a privilege to serve a variety of exciting organisations throughout my career. In the course of completing sales effectiveness, consulting, training, and interim management assignments, I have continued to learn about business, selling, and sales management, extending the value I can add in the future.
Since all my employers, customers, and clients have been in the business of using expertise, technology, and software to increase business efficiency or solve problems, I have remained familiar with a wide range of technical requirements, software applications, and technologies.
Through SalesSense and other roles I have been able to develop the versatility, creativity, and problem solving skills that have enabled me to make a difference. In the course of my work, I have had to deal with ambiguity, assimilate complexity, and continually represent difficult concepts in an easy to understand manner. I have been privileged to make a unique contribution where people were engaged in supplying complex technology-based solutions to companies and organisations.
Clive Millers LinkedIn Profile
If you would like to learn more about SalesSense or get in touch with Clive Miller, telephone +44 (0)1392 851500 or send email to clive@salessense.co.uk. He will be pleased to respond and learn about your interest. Alternatively Send email to custserv@salessense.co.uk for a prompt reply or use the contact form here.