Find and win more high value business - corporate sales training for winning complex sales.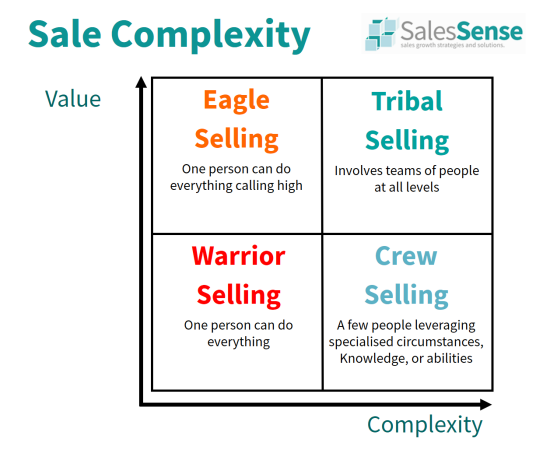 Take control of the process, co-ordinate the team, and minimise the risk. Corporate sales training enables teams to make efficient use of resources, shorten sales cycles, and win more high value, complex sales.
One-to-one delivery: £695
Per session one-to-one delivery: £95
Per session group delivery: £180
Training takes place in a virtual meeting.
Fees exclude applicable VAT 
When everything is riding on winning a key opportunity, leave nothing to chance. Take this corporate sales training programme and win more high value complex sales.
Due diligence sufficient for 'run of the mill' decisions is inadequate for both buyer and seller. Eliminate the guesswork, reduce the risk of losing, and increase success with major sales opportunities.
Competition for enterprise opportunities is usually ferocious. You can't always be first in with the best solutions and lowest price. Winning means finding a way to outsell your competition.
Losing a big deal is more than just disappointing. You cannot recover the time and effort invested in the campaign to reinvest elsewhere. Losing is likely to mean missing overall targets.
This corporate sales training programme provides a reliable methodology that minimises risks without diminishing scope for individual flair or innovation.
Sales Training Program Objectives
Improve success ratios for high value sales.
Reduce or eliminate effort wasted on unproductive campaigns.
Increase certainty and forecast accuracy.
Improve team communication.
Reduce or eliminate selling mistakes.
Understand politics and organisational dynamics.
Learn to anticipate organisational change.
Identify the people with the most situational influence.
Identify important influencer characteristics.
Develop the right relationship status.
Increase control of complex relationships.
Account for and overcome competitive threats.
Use strategy to out think competitors.
Use strategy to drive actions.
Win in less time.
Typical Participant Comments
This is a 'just in time' course for improving our daily sales activities. The techniques taught are easy to understand and to apply in reality. This is a great course. From Motorola
An excellent mix of practical exercises and theory. Good examples for clarity, good pace and very good use of interpolation from the tutor. From Elyzium
Fast paced and relevant. Challenging for all levels of attendee experience. Good time keeping. Maintained interest and control throughout. One of the better ones. From Hand Held Products (Now Honeywell Imaging and Mobility)
Winning the Complex Sale teaches participants how to take the uncertainty out of the enterprise selling process. Applying the method improves the use of resources, minimises wasted effort, and increases results.
This advanced methodology enables established salespeople and their support team to win more often. Benefits include improved team cooperation, more accurate forecasts, greater situational control, shorter sales cycles, better success ratios, and dramatically increased results.
Who Should Attend
Those responsible for sales of technology, capital equipment, management consulting, and enterprise software. People who help win major sales opportunities including sales staff, line managers, technical support people, bid managers, professional services managers, internal consultants, and directors.
Additional Benefits
Flexible multi session 'learning by doing' options.
Workplace assignments develop new habits and practices.
Tools, templates, frameworks, and examples save time and aid learning.
Common language improves communication and team work.
Promotes adoption of 'best practice' habits and methods.
Increases productivity, consistency, and results.
Improves job satisfaction and motivation.
Reduces staff turnover.
During the programme, participants work on current opportunities. Applying the methodology to real opportunities, demonstrates the value, proves effectiveness, and provides experience working with the planning and thinking tools. Time spent on this corporate sales training programme helps with current opportunities and directly increases chances of success.
Corporate Sales Training Delivery Options
One-to-One

View and download presentations, tools, templates, and other resources. The assigned coach arranges one-to-one training sessions to present or discuss the material and identify on-the-job learning actions. Training and coaching continues until the participants are satisfied with their learning progress. Session last one hour and are scheduled to suit participant needs.

£695 + applicable VAT. Add to cart or book places

One to One on a per session basis.

£95 + applicable VAT. Add to cart or book places..
Via Online Group Training - Includes access to presentations, tools, templates, and other resources. Choose content priorities. Schedule 1 hour sessions to suit participant needs.

£180 plus applicable VAT per session. Book this training.

Traditional Classroom

The programme delivery takes place over one or more days at a conference venue or at the customers offices. This is effective for three or more participants.

Use this link for more information or to have us call you.
Large Numbers
Licensing and train the trainer options enable self delivery. To find out more, call or use the links below. Associate and Affiliate representation welcomed. To promote or deliver this course, get in touch directly.
Flexible Delivery
If you need to increase success rates for high value enterprise sales opportunities, this course offers a reliable and flexible corporate sales training program. Telephone +44 (0)1392 851500. We will be pleased to learn about your needs and talk through some options. Alternatively Send email to custserv@salessense.co.uk for a prompt reply or use the contact form here.