Improve outcomes, results, and well-being through performance coaching.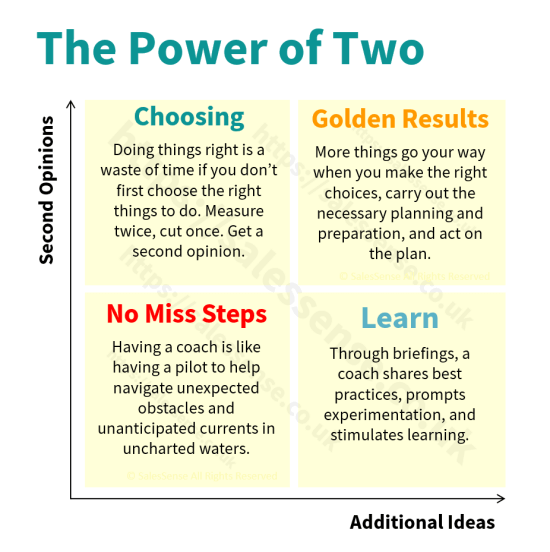 Salespeople sell an average of 13% more when they have regular performance coaching sessions.
Sales and margins increase when salespeople have a coach.
Coaching improves job satisfaction, standing, and career progression.
Regular bi-weekly or monthly team coaching sessions increase overall sales results.
Sales manager coaching increases sales team performance.
Biweekly Performance Coaching Works
Watch this video for an example of the impact that a long-term programme of biweekly sales training and coaching can have on sales results.
"The results have been amazing," 
Harry Beacall
Deal Reviews and Training
Use performance coaching to increase a sales manager's bandwidth. Have the coach take on deal review duties.
Performance coaching is much underutilised as an improvement solution.
Training delivered via one-to-one sessions is the most efficient way to help salespeople learn new methods and skills. All of our training programmes can be delivered through a series of one-to-one coaching sessions.
Organisations expect their managers to do the coaching. This conflicts with a manager's main priority. Results must come first. Coaching is inevitably pushed into second place and the time available for it is squeezed.
Performance Coaching for Sales Managers
A sales manager's judgment and decision-making are tested every day. It can be lonely to be where the buck stops. Coaching helps sales managers expand their perspective, deal with ambiguity, and make better decisions.
Maintaining a selling organisation's effectiveness involves continuous tuning and adjustment. When you carry the responsibility for the numbers, decision-making can't be easily shared.
Managers with a coach avoid miss-steps, get more done, and achieve greater control of results.
While training for salespeople is usually given some priority, training and coaching for managers are widely neglected. Many businesses seem to ignore the need. There is an expectation that managers will prioritise their own learning.
In sales management coaching programmes we share tools, resources, and content from our Top Sales Management training course. Participants benefit from a series of one-to-one sessions, a receptive ear, collaborative support, greater clarity in decision-making, and the sales management experience of the coach.
Sales managers who participate in regular coaching sessions can expect at least a fiftyfold return on the investment in terms of team performance.
Performance Coaching for a Business
Businesses benefit from having a retained performance coach who can enable managers and staff to solve problems as they arise.
Having an experienced outsider, looking in and asking the un-asked questions leads to better decision-making. A retained performance coach can help establish a culture of kaizen. Through continuous improvement, businesses outpace their competitors and gain recognition as leaders in their field.
If you need to increase sales, improve management effectiveness, or raise revenue, performance coaching can help you succeed. Telephone +44 (0)1392 851500. We will be pleased to learn about your needs and discuss the options. Send an e-mail to jimm@salessense.co.uk, use the contact form here, or book a call with Clive Miller.