SalesSense Background, history, aims, values, and expertise.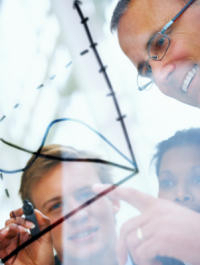 SalesSense is a Partnership run by a husband and wife team, supported by siblings and members of the next generation. We also rely on a small group of Associate Consultants who together with the Managing Partner, deliver services.
We have been helping individuals and companies increase business-to-business performance since 1996. From our Exeter base, we serve the South West, the Thames Valley, and London.
How Investing in Training and Coaching Can Effect Business Results
In this video Co-Owner of SlipTest, Belinda Bleakley, tells the story of their decision to invest in sales training and coaching to support post-Covid recovery and how it has helped them bounce back, stronger than ever.
Our name, SalesSense, reflects the nature of our purpose, to make sense of complex sales issues and then help others apply ideas, principles, and methods to increase performance.
Services include salesforce and business assessment, strategy and planning, enablement, effectiveness, training, coaching, and new business development consulting.
We focus on the needs of companies and individuals with technical, high-value propositions who sell to businesses and organisations.
Larger customers include Thales, Dassualt, Mouchel, Integralis, Delcam, and many medium and small organisations, some with fewer than ten employees.
Most engagements begin with an informal exploration of the potential to realise opportunities or solve problems through improved thinking, planning, and preparation.
Sometimes this is followed by a formal investigation or assessment. Our work normally encompasses the improvement of measurable parameters. Our involvement can be as straightforward as one-to-one coaching sessions or as comprehensive as interim business development assignments.
SalesSense has helped clients with:
Selling into new markets
Acquiring business relinquished by competitors
Taking advantage of market growth
Staff recruitment
Staff development
And resolve a range of issues:
Poor performance
Staff turnover
Failing individuals
Failing strategy
Loss of key people
Aggressive competition
Most of our work is now carried out remotely. We make extensive use of online tools and face-to-face communication. Good motorway and rail links make it easy for us to reach customers across the South of England. International assignments have taken us to Norway, Sweden, The Netherlands, Switzerland, France, Hungary, Bahrain, India, China, Hong Kong, Singapore, Australia, South Africa, and America.
The individuals and teams who benefit most from using this site and SalesSense services are those who sell technology, software, and know-how-based business solutions where the application of intelligence to the selling process, adopting best practice methods, and the continuous improvement of skills lead to optimum results.
If you are looking for help with any sales performance issue, sales assessment, sales training, or coaching telephone +44 (0)1392 851500. We will be pleased to learn about your needs and talk through some options. Send an email to custserv@salessense.co.uk for a prompt reply or use the contact form here.