Sales competencies defined in terms of knowledge, skills, and habits.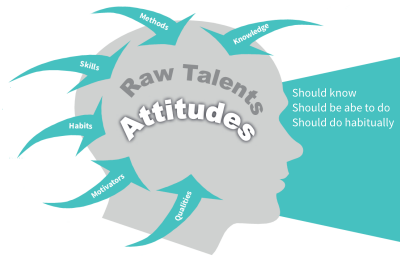 Here you can use our sales competence model as a base for your own. You can learn how we define a sales competency and find information about using it to drive learning.
See our step-by-step process for competence led learning here.
Below are the nineteen sales competencies that make up our model. We use it to guide assessment and training course design.
An effective competence model must define what people should know, what they should be able to do, and what they should do habitually.
Have us create a competence model for you:
Because we have a structured process for developing customer specific models, we may be able to complete them in less time than it would take you to do the work. This will free you to get on with your other pressing priorities. Fees are less than you might think. Get in touch.
The Nineteen Sales Competence Factors
1. Answering Common Customer Questions - Expertise, knowledge of value and proof points, skills
There are six common questions that buyers have in mind when considering new purchases or suppliers. Those who have good answers increase credibility, reduce anxiety, and develop trust more easily.
2. Market and Industry Understanding - Expertise and knowledge
Salespeople who have expert knowledge of the market and industry that they operate in, find it easier to build important contacts and recognise worthwhile opportunities. It helps them establish credibility, communicate value, and develop trust.
3. Customer and Prospect Understanding - Expertise and knowledge
Ability to persuade depends on understanding. Knowing how a customer's business works helps salespeople position the value they offer and acquire trusted advisor status.
4. Company Understanding - Knowledge
Those who know their company's goals, objectives, strategy, needs, strengths, and weaknesses understand the capabilities and resources available to address the market.
5. Written Communication - Skills
In addition to general customer communications via letter and email, many salespeople must prepare their own quotations and proposals. The increasingly important personal marketing and digital selling techniques rely heavily on writing skills.
6. Understanding and Articulation of Value - Expertise, knowledge, and skills
Complete understanding of the value provided by the products or services represented is an aspect of a salesperson's knowledge that shouldn't be taken for granted. Equally important is ability to communicate the value effectively. Aspects 1 through 6 of the competency model are explored and evaluated in the Sales knowledge Assessment.
7. Proactive Prospecting - Motivation, planning, methods, and skills
If marketing activities don't generate enough leads and enquiries, salespeople must be able to find their own. Effective and efficient prospecting can make all the difference when business is hard to come by.
8. Networking for New Opportunities - Motivation, planning, methods, and skills
Networking is an alternative means of finding new prospects. It depends on having a favourable relationship with a wide range of business contacts in the industry and related industries.
9. Opportunity Qualification - Planning, methods, tools, habits, and discipline
Doing things right is a waste of time if people don't first choose the right things to do. Qualification has a substantial impact on success.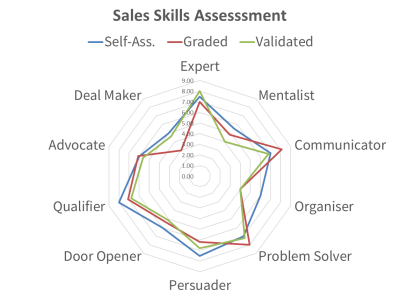 10. Forecast Accuracy - Planning, methods, tools, habits, and discipline
Apart from an accurate forecast being essential for good business management, is also helps salespeople secure the right resources to win the business opportunities addressed.
11. Organisation and Time Management - Planning, methods, tools, habits, and discipline
Forethought, planning, and preparation precede success. Making good use of the time available and paying attention to detail are also important sales competencies.
12. Managing the Sales Process - Planning, methods, tools, habits, and discipline
Using a system or method that has proved effective elsewhere provides a benchmark for measuring progress and a common language for communicating internally. Frameworks and checklists help sellers avoid mistakes and develop better methods.
13. Interpersonal Communication - Empathy, sensory acuity, knowledge, experience, and skills
Good communication is a foundation stone of success. Many aspects of sales competency depend on the salesperson's ability to discover information that isn't publicly available, shift another person's perspective, and make a convincing presentation.
14. Handling Objections - Preparation, methods, and skills
Buying objections thrown up by customers can delay or stall business that otherwise could be concluded. Salespeople need ability to turn objections around.
15. Progressing a Sale - Preparation, methods, and skills
Moving a sale forward depends on ability to influence customer staff manage the customer's buying process. Salespeople need to gain agreement and motivating action at all stages of a sale.
16. Negotiating Terms - Preparation, methods, and skills
Some elements of negotiation are important throughout a sale however the final negotiation often brings out different behaviours, tactics, and ploys. Salespeople need formal negotiation abilities. Sales competencies 6 through 16 of this sales competence model are explored and evaluated in our Sales assessment.
17. Self-Development - Planning and discipline
In a competitive market, organisations must continuously increase productivity. Salespeople must keep getting better. Otherwise their company will inevitable be overtaken by competitors.
18. Sales Mindset - Beliefs, values, virtues, motivation, and attitudes
Attitude dictates thinking and thinking dictates speech and actions. There are attitudes that help salespeople succeed and there are those that hinder. While attitude itself cannot be a competency, having attitudes compatible with success, can be considered an aspect of sales competence. Beliefs about selling and attitudes towards sales challenges and self development are reflected and investigated in the Sales Mindset assessment.
19. Sales Motivators
Motivation has a major impact on the decisions salespeople take and the actions that follow. Consequently, a salesperson's intrinsic motivators, have a bearing on success which differs according to the role being fulfilled.
If you need ways to measure sales competencies or want to create a sales competence model for training or assessment, we can help. Telephone +44 (0)1392 851500. Alternatively, use the contact form here or send email to custserv@salessense.co.uk.