Use this sales quiz to discover learning opportunities.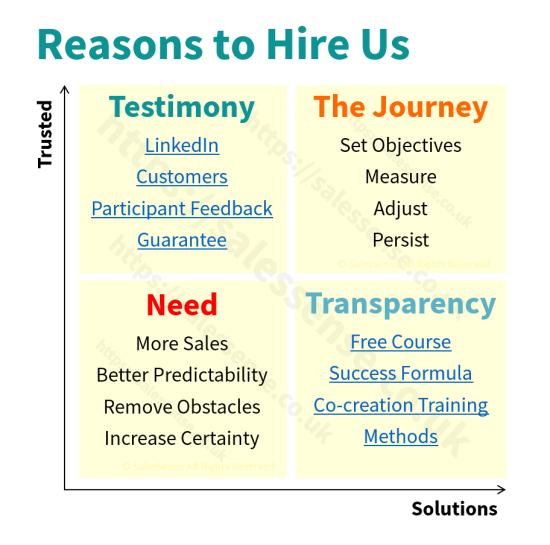 Learn what you know and don't know, then prioritise just what you need. Take this free sales quiz to establish learning needs and focus coaching or training on the right things.
Top sales performers agree that you have to keep learning to keep earning. Whatever set you apart yesterday is common knowledge today and will be in common use tomorrow.
Whether you need a way to help team members invest in themselves, support for renewing, expanding, or leveraging your own expertise, or ways to resolve a sales issue, start by completing the sales quiz.
You can complete the sales quiz from any perspective. Answer for yourself, or an individual whom you know well, or a team, or a company. Use the sales quiz to conduct a SWOT on sales abilities.
Sales Quiz Instructions:
To take the sales quiz, score each of the 'how to' or 'fact' statements below. Enter a score between 1 and 10 in the boxes adjacent to each statement.
Score according to the degree of truth in each statement.
For example, give yourself a high score if you can already teach others how to accomplish the thing expressed in a statement. Enter a middling score if you can think of a few ways to achieve the outcome. Give yourself a low score if you are unsure how to get the thing done or achieve the result.
Make your score reflect reality.
The data is not recorded so you only have yourself to mislead.
Your total score and a chart showing your strengths and weaknesses will be updated in real-time at the bottom of the page.
| | |
| --- | --- |
| 1. I know how to use thoughts and thinking to affect sales results. | |
| 2. I can persuade by giving factual answers to the most common customer questions. | |
| 3. I have established my credibility as an expert in the markets I address. | |
| 4. I know how to gain access to senior people in customers and prospect organisations. | |
| 5. I know how to influence customer decisions. | |
| 6. I know how to influence the decisions of the organisation I work for. | |
| 7. I know how to find prospective customers with an immediate need for what I am selling. | |
| 8. I know how to make sales messages compelling. | |
| 9. I know how to get through and get a hearing when a prospect won't take my call. | |
| 10. I know how to make a great first impression, every time. | |
| 11. I know how to make cold calling a productive and enjoyable task. | |
| 12. I know how to get an introduction when I don't know anyone who can introduce me. | |
| 13. I know how to use charm and can be charming whenever I choose to be so. | |
| 14. I know how to build rapport quickly, with anyone. | |
| 15. I know how to have anyone think of me as a trusted advisor. | |
| 16. I know how to recognise the apparent sales opportunities that won't happen or can't be won. | |
| 17. I know how to have customers think of my organisation as a strategic partner. | |
| 18. I know how to have prospective customers talk about their problems. | |
| 19. I know how to have prospects develop a value proposition that favours my solution. | |
| 20. I know how to determine if a prospective customer will pay our price. | |
| 21. I know how to identify and speak with all those who are influencing a buying decision. | |
| 22. I know how to turn the customer buying process into a collaboration. | |
| 23. I know how to manage a high workload without feeling stressed. | |
| 24. I know how to use a sales process to shorten sales cycles. | |
| 25. I know how to use a sales process to accurately forecast sales. | |
| 26. I know how to use a sales process to increase sales opportunity win rates. | |
| 27. I know how to have people share sensitive or confidential information. | |
| 28. I know how to persuade people to change their minds about almost anything. | |
| 29. I know how to uncover hidden sales objections. | |
| 30. I know how to have buyers handle their own sales objections. | |
| 31. I know signs that indicate when a buying process has become a negotiation. | |
| 32. I know how to have a combative negotiator collaborate to reach an agreement. | |
| 33. I know how to maximise our profit and customer satisfaction, through negotiation. | |
| 34. I know how to differentiate what I sell, through a presentation or proposal. | |
| 35. I know how to have a customer press themselves for a buying decision. | |
| 36. I know how to manage my sales career. | |
| Total Sales Quiz Score | |
Sales Quiz Score Guide
If you scored over 300, could you have been overly optimistic in your assessments? Whatever your score, the chart reflects strengths and weaknesses. Working on strengths can be very rewarding. Weaknesses can sometimes be ignored if they are not causing lost business or others to perceive incompetence.
Don't leave it here. Decide your next steps. Action is the key.
Here are some suggestions:
No data entered on this page is recorded so if you want to keep your scores, save the chart to your device. For PC's, right-click on the chart and select save-as. For mobiles, take a screenshot.
If you have found this sales assessment useful, add a comment below to encourage others.
SalesSense Training Benefits
Flexible single or multi-session 'learning by doing' structured training.
Workplace assignments develop new habits and practices.
Tools, templates, frameworks, and examples save time and aid learning.
Common language improves communication and teamwork.
Promotes adoption of best practices, habits and methods.
Increases sales productivity, consistency, and results.
Improves job satisfaction and motivation.
Reduces staff turnover.
Delivery Options
One-to-one on a per-session basis.

£150 + applicable VAT. Learn more.

Group Training on a per-session basis.

£250 plus applicable VAT. Learn more.
Online one-to-one and group sessions are led by Clive Miller. Fees include session recordings, presentations, tools, templates, and other resources.
Traditional Classroom Sales Training
Programme delivery can be scheduled over one or more days at a conference venue or at the customer's offices.
If you need to renew or maintain sales team motivation and development, use our sales quiz to establish training needs, maximise impact, increase efficiency, and reduce costs. Telephone +44 (0)1392 851500. We will be pleased to learn about your opportunities and talk through some options. Alternatively, send an email to custserv@salessense.co.uk for a prompt reply or use the contact form here.