Develop the right sales skills through this professional sales training course.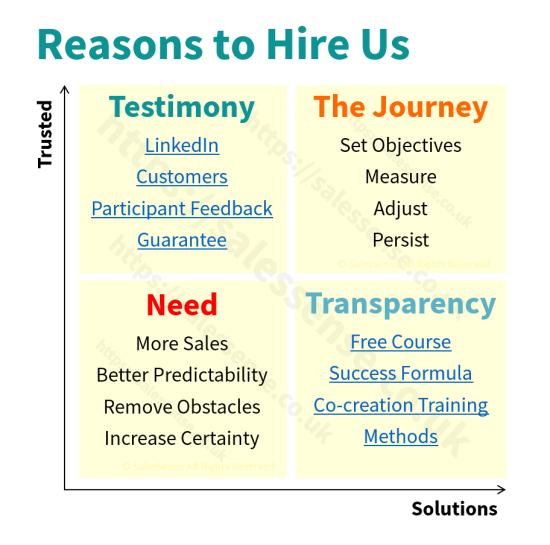 Get up to speed fast with a professional sales training foundation. Study the essential skills, habits, and methods of sales professionals and discover the secrets of high-earning salespeople.
What sets this professional sales training course apart from others?
The co-creation of workplace actions for embedding learning in participant routines and habits.
The opportunity for one-to-one learning.
Delivery by the course author.
Can you find another professional sales training course with all of these advantages? 
Learn how to find the right customers, add unique value, and help customers succeed. Establish strategic supplier status and become a customer's trusted advisor. Take this professional sales training course to establish a B2B sales career, develop professional selling skills, and increase sales performance.
Programme Objectives
Establish the right habits and practices for success in a sales career.
Have people think what you want them to think when you answer their questions.
Find prospects with an immediate need for what you sell.
Develop or improve telephone sales skills.
Use pipeline management to guide priorities.
Score sales opportunities to identify the next actions.
Develop or improve interpersonal communication.
Learn to adapt for difficult personalities.
Use questions to persuade.
Use listening to persuade.
Understand the psychology of decision-making.
Acquire a proven consultative sales process.
Overcome obstacles and turn around objections.
Develop or improve sales presentation skills.
Develop or improve sales letter and proposal writing.
Be ready when the customer starts negotiating.
Improve negotiation outcomes for you and the customer.
Close sales with confidence and certainty.
Improve planning and productivity.
Practise applying learning in simulations and exercises.
Who should attend:
New business-to-business salespeople, those without previous professional sales training, and those seeking an up-to-date refresher. Suitable for people who want to launch or re-establish a business-to-business sales career.
Typical Participant Comments:
Great learning experience. Simulation exercises and group work helped a lot. Useful reference material. From Tata Telecommunications
Very practical and hands-on. Liked the fact it has been spread out over a number of weeks. Clive came across as diligent, supportive and demonstrated a very good understanding of the issues I am facing on a daily basis. His suggestions have not only been taken on board, I am actually already using them. From Integralis
The course is a real eye-opener, good at pointing out issues and factors that may be missed/taken for granted and teaching how we can use this to our advantage. From Bfi Optilas
Additional Benefits
Flexible multi-session 'learning by doing' structured training.
Workplace assignments develop new habits and practices.
Tools, templates, frameworks, and examples save time and aid learning.
Common language improves communication and teamwork.
Promotes adoption of best practices, habits and methods.
Increases sales productivity, consistency, and results.
Improves job satisfaction and motivation.
Reduces staff turnover.
Professional Sales Training Course Delivery Options
Join a scheduled course consisting of 20 weekly one-hour virtual classroom training sessions with a maximum of seven other participants. £995 - Learn more. See the booking page for discount offers. 🛒
One-to-one with the course author. Start immediately. £1595 - Learn more. Booking page. 🛒
Self-led learning with trainer support. Start immediately. £495 - Learn more. Booking page. 🛒
One-to-one on a per-session basis. Select from the 20 modules. £150 - Learn more. Booking page. 🛒
Group training for up to eight people via 20 sessions. £3995 - Learn more. Booking page. 🛒
Group training on a per-session basis. Select from 20 modules. £250 - Learn more. Booking page. 🛒
Train the trainer. Includes a 100-participant delivery licence: £4995 - Learn more. Booking page. 🛒
All sessions include access to presented material, tools, templates, and recordings.
Fees exclude applicable VAT.
Traditional Classroom - The programme delivery takes place over one or more days at a conference venue or at the customer's offices. Cost-effective for four or more participants. Learn more.
Want Something Else? Please Ask:
Flexible Support
If you are looking for a professional sales training course or need to develop professional selling skills, we can help. Telephone +44 (0)1392 851500. We will be pleased to learn about your needs and talk through some options. Alternatively, send an email to custserv@salessense.co.uk for a prompt reply or use the contact form here.