Use our facilitated enquiry sales process improvement method to bring about rapid transformation.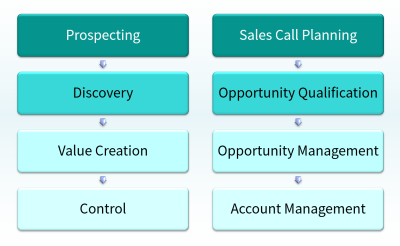 Sales Process Functional Perspectives
Sales Process Improvement Facilitated Enquiry is a structured method for evaluating organisational effectiveness against established or commonly understood best practices.
The enquiry examines sales process steps, sales stages, governance, measurement, and maintenance from the set of eight functional perspectives illustrated.
Comparing current practice with commonly established 'best practice' reveals improvement opportunities.
It leads to the preparation of detailed change management plans for sales process improvement, governance clarification, measurement automation, and method maintenance for selected enquiry perspectives.
Cut the cost of selling, improve business predictability, and increase sales performance through a process of managed change.
The Improvement Method
In the workshops, improvement project champions step forward to lead adopted initiatives.
The consultant facilitates the process, substantiates best practices, and supports the ongoing transformation.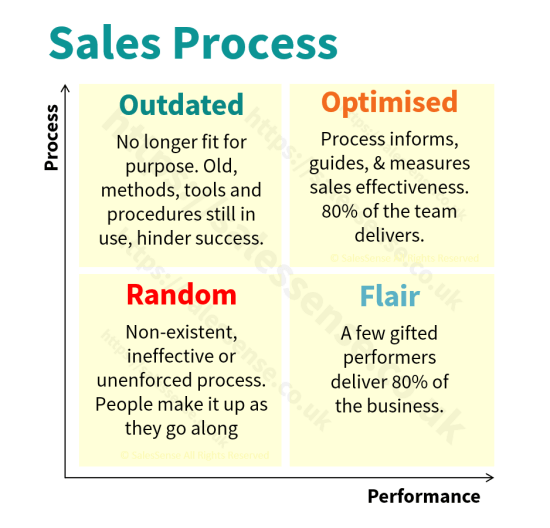 The method is completed in seven steps. The first six can be conducted consecutively or spread over a few weeks. Workshops can take place online or face-to-face.
The Benefits
Implementation leads to increased profit margins, more accurate sales forecasts, and increased sales performance. Depending on the starting position, percentage improvements can be in double digits.
Sales Process Improvement Facilitated Enquiry aids leadership teams in:
Identifying actionable improvement opportunities
Prioritising the most important
Appointing project champions
Preparing change management plans
Implementing the plans
Those Who Should Participate
For any transformation to take place, all the people who will have to make changes or who will be affected by changes must be represented in the change management process, including:
All those who normally participate in sales policy decisions
Those responsible for the management or supervision of salespeople
One or more influential members of the affected sales teams
Managers of groups who support sales, process orders, or deliver solutions
Anyone else who is likely to be concerned about changes in the way salespeople work
Stages in the Facilitated Enquiry Process
Initial briefing – participants join a conference call to learn about the process and ask any questions.
Assessment – participants complete the Sales Process Improvement Facilitated Enquiry assessment to identify the level of current practices compared with commonly held best practices. This normally takes each person 10 to 20 minutes.
Positioning Review – participants meet to review the assessment results and reach a consensus on their company's effectiveness position for each of the eight functional perspectives. This usually prompts a lot of discussion and examination of current governance and behaviours.
Priority Review – participants meet to decide which improvements should be initiated and who should lead each improvement initiative.
Plan Creation – participants meet to support the development of a practical improvement action plan. This begins with syndicate groups who work with improvement project leaders to develop an initial plan for each project. Each plan is then subjected to a plan review by the whole group. Improvements are incorporated into the plan.
Project Launch – Each improvement project leader presents the committed plan for their project.
Project Reviews – These are follow-up meetings of the whole group to review the progress of each project and discuss how to deal with any unforeseen obstacles.
Facilitated Enquiry Duration
The initial briefing usually takes between 30 and 60 minutes.
It is normal to allow a week for everyone to complete the assessment.
Depending on the number of people involved and the number of projects initiated, two to three days of meeting time should be set aside to complete stages 3 through 6.
Project reviews should continue monthly until each improvement project is completed.
Results Measurement
The selection of key performance indicators, collection of benchmark data, and identification of monitoring and reporting methods are detailed in each project plan. Results are normally discussed in project reviews, as soon as comparison with benchmark data becomes appropriate.
If you need to increase sales performance, use this change management approach to initiate sales process improvement projects that work. For assistance, telephone +44 (0)1392 851500. Alternatively, use the contact form here or send an email to jimm@salessense.co.uk for more information.