Grow faster with outsourced sales enablement services.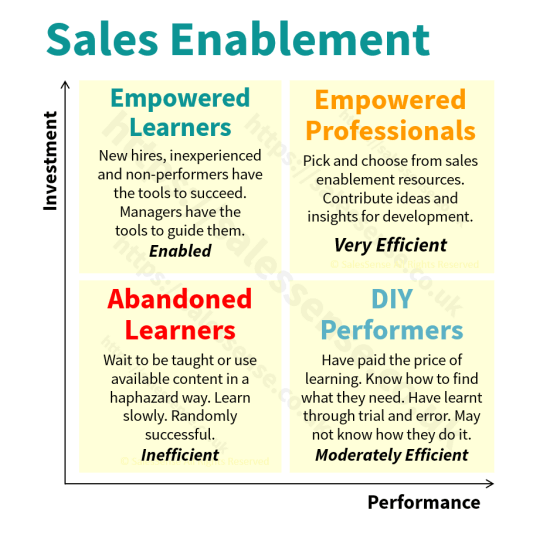 Do you have a sales enablement toolkit?
If you do, is it working?
If not, should you build a new one?
Save your time for the main thing. Have us build or update your enablement materials and train your team to use them. Schedule a call with me now, or telephone +44 (0)1392 851500.
Elements of a Sales Enablement Toolkit:
Ideal prospect characterisation for each market segment addressed.
Quantified pre-qualification criteria
Customer buying persona descriptions together with a list of their buying triggers.
Answers to the top six customer questions.
Proof that your offerings do what you claim.
Stories about successful customers.
Customer interviews.
Current professionally written case studies.
Ten to fifteen distinct prospecting email/letter/voicemail templates for use in a campaign spread over several months.
Effective objection turnaround solutions for all anticipated objections.
Defined stages of the customer buying process.
Sales competence model defining:

The knowledge that your salespeople should have
The things that your salespeople should be able to do
The things that your salespeople should do habitually

Dedicated online (access anytime) sales training aligned with the competence model.
With this compendium of resources, established salespeople are more effective, new salespeople become productive sooner, and sales success is more predictable and manageable.
Use this quick questionnaire to compare your enablement services with commonly held best practices.
Is it time to seek outside sales enablement services to create and maintain the tools, content, training and other resources that drive business success?
Reasons for Sales Enablement
Enablement materials have an immediate effect on sales results.
A Salesforce survey indicated that salespeople spend up to a third of their time looking for content to use in their work.
A published - company-specific - sales competence model motivates learning and changes behaviours.
Sales tools, methods, and guides propagate best practices, improve business predictability, and increase confidence.
If you need to create, improve, or maintain the use of best sales practices yet find it difficult to set aside time, you are not alone. Those with the necessary knowledge and skills are also best able to lead a team, fill the sales pipeline, and close business.
Instead of risking business to re-organise, renew, or create materials in-house, have us provide the necessary temporary resources.
Sales enablement improves forecast accuracy, reduces staff turnover, saves hours of preparation time, reduces recruitment costs, reduces mistakes, and increases sales performance.
If you lack the time or resources to enable your salespeople, our outsourced sales enablement services can fill the gap. Telephone +44 (0)1392 851500. We will be pleased to learn about your needs or talk through some options. Schedule a call with Clive Miller now. Alternatively, send an email to custserv@salessense.co.uk or use the contact form here.