Sales role plays and simulation exercises in training drive rapid improvement.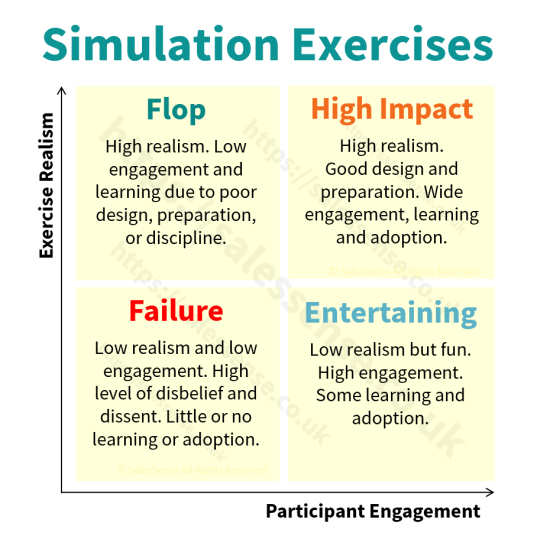 Sales simulations and real-world sales role plays involve participants in realistic scenarios where they are expected to respond and act as they would in a real situation. The experience drives rapid improvement so it is ideal for sales training and preparation for key customer engagements.
Salespeople rarely include role-plays and simulations in their preparation for customer encounters. Have us create realistic sales simulation exercises for key account engagements and sales training.
Our bespoke service includes all preparation, facilitation, and debriefing. Simulations can be designed to fit in an hour or less. Large-scale exercises can be designed to be integrated with conferences, kick-off meetings, and events.
Sales Role Play and Simulation Benefits
Salespeople test themselves and reveal vulnerabilities in a safe environment. 
Practise develops strengths and leads to improved execution in the field. 
Learning is more certain and reliable in simulations as opposed to classroom training and coaching.
Managers, trainers, and coaches can more easily recognise weaknesses and facilitate learning before mistakes are made in the field.
Design
Based on a study of public material and collaboration with nominated staff, we propose a sales simulation outline. Once approved, we identify the participants and prepare all the briefing documents. For this service, managers and non-sales staff are asked to play customer roles that are designed to reflect participant experience. This minimises role preparation for non-sales participants. Logistics for the event are worked out in parallel.
Facilitation
Facilitation is conducted by the SalesSense coach who created the simulation. He or she directs or conducts all preparation, pre-briefing, event briefing, and the debrief. During the event, the coach monitors progress and guides where needed.
Debriefing
Conducting a debriefing immediately after a simulation is a vital part of the learning experience. People are normally eager to speak about their experiences and observations. It is important to ensure that everyone gets a chance to express their thoughts and, at the same time review their learning. Collective debriefing, where everyone involved listens to everyone's input, is the most productive approach. The coach facilitates this process.
More Reasons for Using Sales Role Plays and Simulations
Skill development: Role plays and simulations provide a controlled environment where sales professionals can practice and refine their sales techniques. By engaging in realistic scenarios, they can enhance their communication, negotiation, and objection-handling skills. This practical experience allows them to experiment with different approaches, learn from mistakes, and gain confidence in their abilities.
Active learning: Sales role plays and simulations encourage active participation and engagement from sales professionals. Instead of passive learning through lectures or reading materials, participants are actively involved in the process. This hands-on experience improves information retention and understanding of sales strategies and techniques.
Feedback and coaching: Role plays and simulations provide opportunities for feedback and coaching from trainers or experienced sales managers. Observers can provide constructive criticism, identify areas for improvement, and offer guidance on refining sales approaches. This feedback loop is crucial for continuous learning and growth, helping salespeople refine their skills and adapt their strategies.
Decision-making practice: Sales scenarios often involve making quick decisions based on customer needs, objections, and competitive factors. Role plays and simulations allow salespeople to practice making these decisions in a controlled setting.
Team collaboration: Sales role plays and simulations can be conducted with multiple participants, allowing for team collaboration and interaction. Sales teams can work together to tackle complex scenarios, learn from each other's approaches, and share best practices. This collaborative environment fosters teamwork, strengthens interpersonal skills, and improves overall sales team dynamics.
If would like to learn more about sales role plays or simulations or discuss their use for events or sales training, get in touch. Telephone +44 (0)1392 851500. We will be pleased to discuss your needs and talk through some options. Send an email to custserv@salessense.co.uk for a prompt reply or use the contact form here.