Could you be missing out on 25% of your sales potential?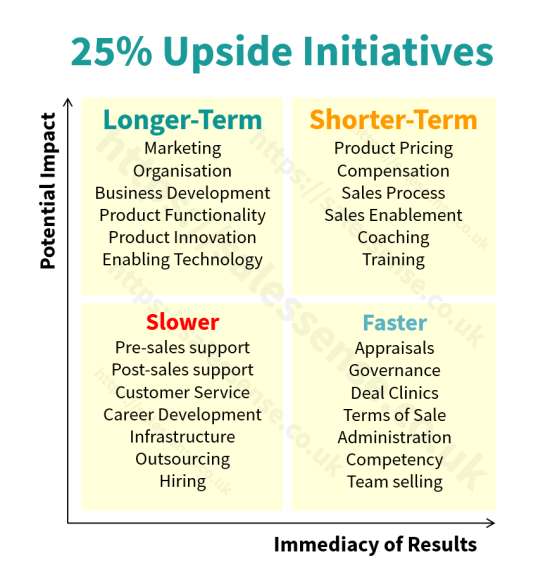 Work on these aspects to unlock missing business. If needed, use sales consultancy services to supplement your resources:
Develop a more effective sales process.
Reduce the cost of selling to improve margins.
Win more new customers.
Increase sales to existing customers.
Reduce sales staff churn.
What are sales consultancy services and how can they help?
If you know what to do but don't have the time or people to work on the business, use temporary specialists to supplement your resources.
If you don't know what to do, consult specialists who do and then act on what you learn to make changes yourself or hire the consulting firm to do the work.
Do you need to find an additional 25% in your business or role?
Schedule an informal conversation with me now or call +44 1392 851500. I'll ask a few questions and then outline ways that others have reclaimed their missing 25% sales upside.
Gain enough information to fix things yourself. If you don't have the time, use our sales consultancy services to help you bring about the necessary improvements.
Results are guaranteed. We warrant that our sales consultancy services will generate a minimum 500% return on the fees you spend with us.
When there is no sales process:
Sales practices are inconsistent. More mistakes are made, more sales are lost, and sales targets are missed.
When sales or margins are squeezed:
Discretionary spending is curtailed, budgets are frozen or cut, and people blame each other.
When more customers are leaving than are being replaced:
Revenue and profits decline, reputation suffers, and morale evaporates.
When sales targets are missed:
Salespeople are fired, sales managers are fired, and CEOs are fired.
When staff turnover is high:
Customers are lost, costs balloon and sales targets are missed. 
Increase Sales Results
What needs attention first? Improving the way things are done; improving forethought, strategy, planning, and communication, or developing individual competence in terms of knowledge, methods, and skills?
It can be difficult to know where to start.
If working in the job is preventing work on the job, we can make a difference by providing temporary sales consultancy services, when you need them.
Improve Business Predictability
The health of a company depends on performance matching expectations yet leaders and their people are often expected to accurately predict the results of uncertain customer decisions.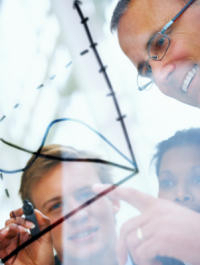 Accurate predictions depend on reliable and repeatable lead acquisition, qualification, and conversion. If a manager's time is fully committed, a sales consultant can take on the task of developing or improving the process.
Alignment of process, market insights, marketing resources, qualification, and execution all improve performance predictability. Optimise your performance with sales consultancy services.
Resolve Issues
In many organisations, management and leadership development is given much less attention than training for salespeople. Leaders and managers are expected to know it all and deliver results with limited or no professional support.
Issues are best dealt with before they become problematic. In an ideal world, managers anticipate problems and difficulties and prevent their occurrence, rather than be on hand to repair the damage after the event.
Continuous informal assessment supported by periodic formal assessment offers the means to head off issues before they lead to poor performance.
"No problem can withstand the assault of sustained thinking", wrote Voltaire.
Yet thinking is the hard work that precedes success. Action without a plan is random and little better than planning without taking action.
If you are too close to the business, Consult experts, peers, a coach, or advisers to ensure consideration of wider viewpoints.
Sales Consultancy Services
We value transparency. The methods behind our services are explained and can be used for self-led initiatives. Methods published include our facilitated enquiry, competency-led learning, and success formula programmes. Hire us to make a difference.
---
If you need help to increase results, improve predictability, or resolve issues, hire a sales consultant to immediately expand resources. Our sales consultancy services deliver specialist expertise and hands-on people when you need them. Schedule a call with me now or call +44 (0)1392 851500. Alternatively, use the contact form here or send an email to jimm@salessense.co.uk for a prompt reply.