How sales enablement impacts sales performance.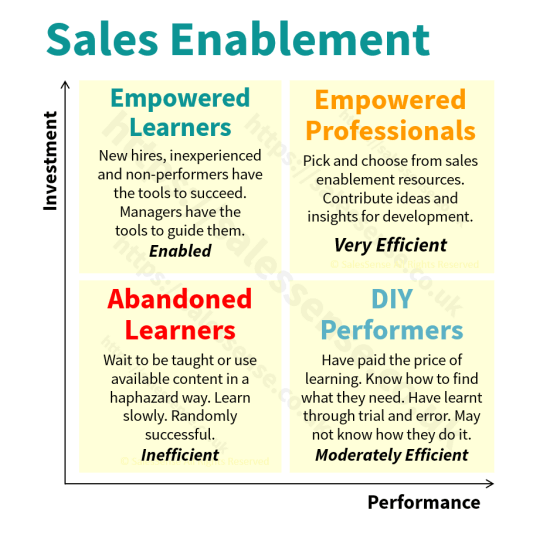 There is plenty of evidence that having a sales enablement plan and dedicated staff to carry out the plan, is worthwhile in terms of increased sales results. Yet many businesses can't justify the cost of a full-time sales enablement specialist.
The consequences are that other managers must fulfil sales enablement functions when they can find the time. As a result, sales enablement doesn't usually receive sufficient attention to optimise the sales yield per salesperson.
Sales Enablement Plan Optimisation Questionnaire
Answer this quick questionnaire to ass your organisation's strengths and weaknesses across eight sales enablement functions.
Score up to 10 points for each statement, according to the truth of each statement. 
Make your score reflect reality.
The data is not recorded so you only have yourself to mislead.
Prospect Profile:

1. A profile of ideal customers together with pre-qualification criteria are clearly described and accessible to all appropriate staff.

Buying Personas:

2. Buying personas for the likely decision influencer and decision-maker roles in prospective customer organisations are clearly defined and accessible to all appropriate staff.

Buying Triggers:

3. Typical buying triggers are listed for each defined buying persona. These are the events that motivate buying personas to actively seek products, services, or solutions that are sold by the organisation.

Proof:

4. A rich archive of customer case studies, video interviews, testimonials, and success stories is maintained and accessible by all appropriate staff.

Approach:

5. A collection of tested email/letter/voicemail templates that can be easily adapted for use in new sales campaigns, is available and published internally.

Sales Process:

6. A proven sales process is clearly defined and explains the best-known method of facilitating a typical customer buying process while identifying and reporting the status and progress of sales opportunities.

Objections:

7. A list of common buying objections together with effective objection turnaround solutions is maintained and published internally.

Access:

8. All of the tools, templates, examples, and customer-facing content that is referred to in the sales process description, are easily accessible in a central depository and linked appropriately in all sales force automation applications.

Online Training:

9. Current online self-led training modules that address all stages of the sales process are easily accessible for all appropriate staff.

Continuous Improvement:

10. All of the sales enablement resources identified above are periodically reviewed and updated to represent emerging best practices.

Total Score
If you score between 60 and 80 for sales enablement, things are in good shape. Just to be sure, check your perspective by having others across your sales and marketing operation, score the statements.
If have scored your organisation between 40 and 60, you could be missing out on as much as a 10% revenue and profit upside.
For scores between 1 and 40, the upside sales performance improvement potential could be 25% or more. If you were to invest as much as 10% of your profit in sales enablement, you should still expect to obtain a significant return on your investment.
If you don't already have dedicated staff, the first action should be to prioritise needs based on your operation and established best practices. Make a sales enablement plan and then think about resourcing it.
Developing a long-term relationship with outsourced service providers offers the option of upgrading your sales enablement without hiring an internal team.
External providers offer many benefits:
Their day job is delivering results through sales enablement. They will have a significant head start on hiring specialists.
Third-party service providers can learn about your sales environment, operations, marketing, market, and customers rapidly because they have done so for many new customers in the past.
Having delivered numerous previous assignments, in our case over 100, they will already have templates, frameworks, and tools enabling them to produce results very quickly.
You can contract for just the right amount of time and adjust it as you grow or your needs change.
Related Sales Enablement Plan Content:
If you need to develop a sales enablement plan and find resources to put the plan into action, we can help. Telephone +44 (0)1392 851500. We will be pleased to discuss your needs and talk through some options. Schedule a call with Clive Miller now. Alternatively, send an email to custserv@salessense.co.uk or use the contact form here.