B2B sales enablement offers more return on investment than sales training. Here is why!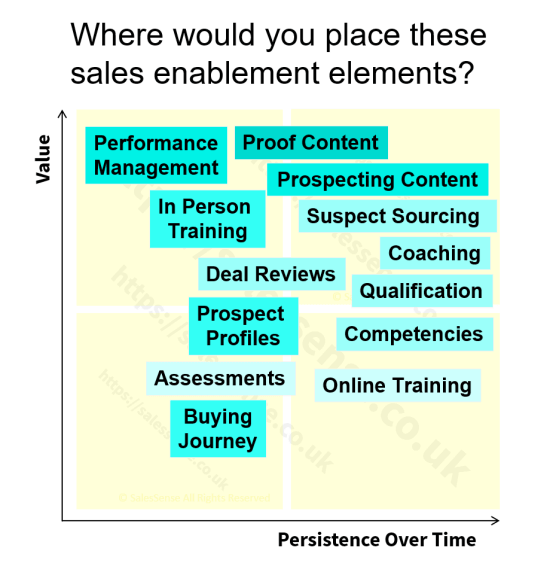 If you create a B2B sales enablement kit, it continues to work for you for as long as it is maintained. If the kit is comprehensive, it supersedes sales training.
In one sentence, a sales enablement kit provides a complete definition of the best-known way to sell particular products or services in a specific selling environment. It includes all of the tools and resources necessary for success.
The Benefits
Managers are freed to focus on the main thing, performance management.
Performance management is transformed from an art into a set of measurements.
Sales forecasting becomes a predictable science that is not subject to guesswork and intuition.
It becomes easier to attract, select, and recruit the right salespeople.
Salespeople spend less time searching for content and more time talking to customers.
Established salespeople get more satisfaction from their work and are less likely to leave.
New salespeople have a complete map guiding early success.
The whole selling process becomes transparent to anyone who studies the sales enablement kit.
Sales competence is defined and measurable.
Sales training is owned and always available.
Perhaps most importantly, selling is optimised, efficiency is increased, and business performance is maximised. 
The Elements of a B2B Sales Enablement Kit
Characterisation of ideal prospective customers. This allows salespeople to recognise the best prospects before they make contact.

Pre-qualification criteria enable sellers to score the potential in their pipeline and focus on the most likely prospects.

Descriptions of the people who typically make buying decisions for your solutions and a list of the events and situations that cause them to buy.

Answers to the most common and most difficult customer questions. Those who learn effective answers more easily convey confidence and certainty in the solutions represented.

Gathered factual evidence that your products and services deliver what you claim.

Collected and crafted stories about the success that customers have achieved with your solutions. These are not endorsements, testimonials, or case studies. They are not published, only retold.

Collected anecdotal evidence offering evidence that solutions like yours are effective.

Collected endorsements and testimonials together with videos and transcripts of customer interviews.

Case studies that are professionally written and endorsed by the customers concerned.

A series of proven email/letter/voicemail templates to be adapted for use in sales campaigns.

Objection turn-around methods that are effective in responding to common buying objections.

Analysis of typical customers' buying stages, mapped to stages in the sales process.

A definition of sales competencies that defines the knowledge salespeople should have, the things that they should be able to do, and the things that they should do habitually. The competencies need to be written in a way that allows easy, non-judgemental assessment, conducted informally or formally.

Dedicated online (access anytime) sales training aligned with the sales competencies. This should include the necessary knowledge as well as instruction on methods and recommendations for developing skills.
Use this list to create your own B2B sales enablement kit.
Once the content has been created, maintenance should be manageable through internal processes or through periodic outside support.
Many businesses already have some elements of the listed content. Missing items might be created in-house.
Go through the list and estimate the percentage sales impact of each element of the B2B sales enablement kit listed above. Be conservative.
What was your conclusion? If you calculated a worthwhile increase, make the design and creation of your own kit a priority.
Article by Clive Miller
If you need to accelerate the design and creation of a B2B sales enablement kit, we can help. Telephone +44 (0)1392 851500. We will be pleased to discuss your needs or talk through some options. Alternatively, Send an email to custserv@salessense.co.uk for a prompt reply or use the contact form here.