Flexible structured
sales training programs including 

sales management courses and communications skills training.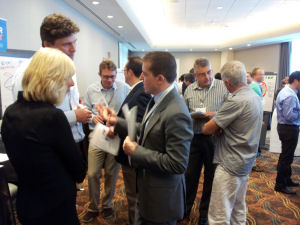 All of our sales training programs are available for self-study with email or telephone support. Delivery through one-to-one coaching, via a virtual classroom, and in-house in a traditional classroom, is also available.
Structured 'learning by doing' sales training programs can be delivered in a variety of arrangements. These include one-to-one, through a series of online sessions, in-house workshops, and in a traditional classroom setting. Separate courses address the needs of different sales roles including account managers, channel account managers, inside sales, business development managers, and consultants.
Sales management training programs for turning the art of managing salespeople into a reliable science. Hire the right salespeople. Help staff motivate themselves. Become a better coach. Learn to adapt management style for different personalities. Get more accurate forecasts. Manage campaign risks. Make meetings more productive. Develop leadership skills. Above all, achieve goals with greater ease and certainty.
Effective communication is important for effective teamwork, influencing others, and negotiating at all levels.
These three communication skills learning programs address persuasion, presentation, and negotiation. 
Influence comes from helping other people do what they want to do. A surprisingly large proportion of people are not doing what they want to do. The triad of persuasiveness, public speaking skills, and ability to get agreement equip people to become influential. 
Self-Study
Most programs are available for self led study. We provide support through one or more one-to-one coaching interactions.
You tell us your priorities and we guide you through the right material and suggest on-the-job learning actions.
Sales Training for Small Groups
All of our material can be explored through a one-to-one coaching program or presented in a series of short workshops that take place in a virtual meeting room or classroom.
In-House
All of our sales training programs are available for in-house delivery, where we come to your premises or deliver at a venue you select.
Material can be delivered in the published format or modified to meet specific needs.
Bespoke
Have us conduct needs analysis or create a bespoke sales training to address your specific requirements.
Alternatively, you can review our learning modules and select those required.
You choose the content, delivery location, and timing.
There is normally no additional charge for bespoke programs. We will design content to your specification as part of our service. 
Follow the links below for more information about specific sales training programs or telephone +44 (0)1392 851500. We will be pleased to discuss your needs and talk through some options. Send email to custserv@salessense.co.uk for a prompt reply or use the contact form here.