Salespeople sell an average of 13% more with a sales coach.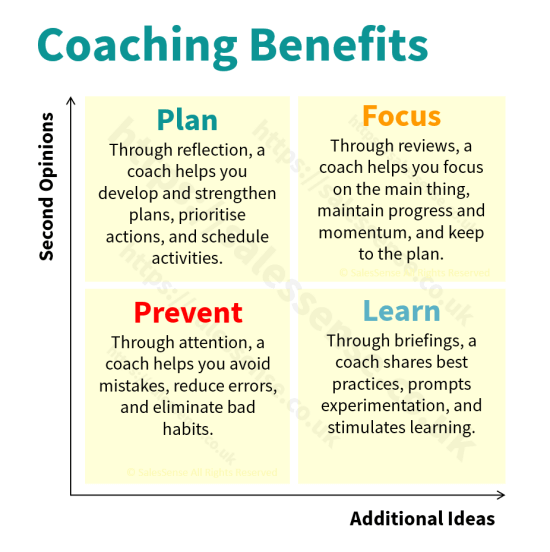 Use a sales coach for deal clinics, to test ideas and plans, and expand learning.
Sales coaching helps salespeople focus on the right priorities, make better decisions, and improve forethought and planning. 
Sellers with a sales coach are better prepared. sales coaching increases effectiveness in all aspects of selling.
Coaching increases sales results by an average of 13%, accelerates career progression, and improves job satisfaction.
Sales Coaching Impact
Coaching for sales teams and individuals makes a difference. In this 3-minute video, Harry Beacall explains how coaching helped transform sales results.
Sales Assessments Included
Take an inventory of skills, habits, knowledge, and practices to formulate development plans. 
Discover development opportunities, prioritise learning, and address weaknesses.
Access to assessments, and sales coach validation is included with a five-session coaching plan.
Use assessments in tandem with coaching for sales team performance improvement. Learn More
One-to-one Training Included
We share appropriate content from our training courses as part of our sales coaching programmes.
Learn new methods and techniques. Practice new approaches without risk. Use the tools and templates to expand thinking, overcome challenges, and increase sales.
Role Play Included
Have your sales coach play the role of a customer to try out sales plays, propositions, messaging, and objection handling.
Our coaching practices draw on collective learning from thousands of previous engagements and decades of front-line sales experience.
All programmes are backed by our performance guarantee.
One-to-one and Group Sales Coaching
One-hour sessions take place in a virtual meeting room. Participants can be anywhere there is an Internet connection so scheduling is easy. More here.
In-Person Coaching for Individuals and Groups
One-to-one in-person and classroom coaching sessions can be arranged, subject to travel and venue expenses.
Sales Coach UK
Our coaching team are all UK-based and native English speakers.
Organising coaching for sales teams is an underused means of increasing business. Free up management time to focus on results. Get a coach for sales development, training, and a 13% boost in results. Schedule a call with Clive Miller to learn more.
If you are looking for sales coaching companies, the right UK sales coach or would like to experience a session, get in touch. Telephone +44 (0)1392 851500. We will be pleased to learn about your situation and discuss some options. Alternatively, Send an email to jimm@salessense.co.uk or use the contact form here.