Address problems, resolve issues, and seize opportunities through sales consultant services.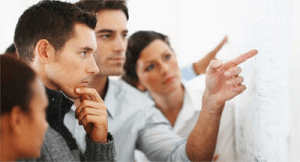 If you are facing problems or issues that are difficult to overcome or need to progress plans that are under-resourced, the temporary services of a sales consultant can enable you to fix things, get those nagging projects completed, or take advantage of more opportunities.
In our work with others, we may have already found suitable solutions to the challenges you face.
If not, we can contribute the extra resources to discover or build solutions that address particular needs.
Consult us without fees. Join the Sales Club for free access to a range of resources including our our free advice service .
We make no charge to speak and guarantee everything we do charge for.
Issues addressed through our sales consultant services:
Assessing sales skills and abilities
Assessing sales management skills and methods
Developing business strategy
Recruiting and selecting salespeople
Reducing staff turnover
Setting up sales channels
Developing channel performance
Managing channel conflict
Management and leadership tasks fulfilled by a SalesSense sales consutant:
Having people set the right goals and objectives for themselves
Dealing with poor performance
Delivering motivating admonishment
Motivating people without using incentives
Using measurement to influence behaviour
Managing effective meetings
Understanding and practicing leadership
Taking difficult decisions
Obstacles that sales consultant services address:
Finding and selecting the right prospects
Getting the attention of decision makers
Uncovering prospect issues
Transforming a business conversation into a collaboration
Establishing a dialogue with all of the people influencing a buyers choice
Discovering the amount a buyer is prepared to spend
Maintaining a dialogue throughout the buying process
Developing trust and establishing trusted advisor status
Achieving 'strategic partner' status or improve organisation standing
Recognising and taking account of politics in an organisation
Selecting and executing competitive strategy
Developing and executing effective tactics
Overcoming or addressing any sales objection
Our sales consultant services span sales strategy development to hands on opportunity identification and pipeline qualification. If you face intractable issues or difficult challenges, we can help. Telephone +44 (0)1392 851500. We will be pleased to learn about your needs and talk through some options. Alternatively Send email to custserv@salessense.co.uk for a prompt reply or use the contact form here.