Consultative sales training for for those who need to sell intangible services.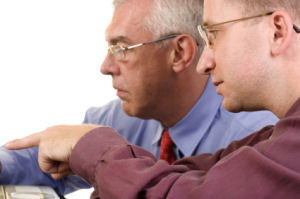 Consultants and others who are selling intangibles, must sell as a secondary duty. This consultative sales training course has been designed for those who must deliver and sell.
One-to-one delivery: £695
Per session one-to-one delivery: £95
Per session group delivery: £180
Training takes place in a virtual meeting.
Fees exclude applicable VAT 
Consultative selling skills complement the problem solving ability of many professionals. Learn reliable and ethical selling skills that can be practiced without abandoning a technical or consultative focus.  
Renew career momentum through training by doing. Participants take on workplace assignments in one to one or group workshop sessions and reconvene to review results, adjust their approach, and take on their next assignment.
Training can be spread over several months, condensed into longer intensive sessions, or delivered over two consecutive days.
Key Takeaways
Never make another cold call again.
Only sell to people who want your services.
Build trust rapidly with anyone.
Turn the sales process into a collaboration.
Participant Comments
Very useful insight into selling a service compared to a product. Excellent role plays which enable you to put what you have discussed into practice. Enjoyed talking around customer objections and how best to counter them. From Base Plus
Great content, pace, and delivery. Would recommend to anyone selling services. From J2 Interactive
Memory jerking. Eye opening. From UPS Systems 
Programme includes:
Pre course questionnaire.
Pre work preparation guide.
Personalised real world workplace assignments.
Programme materials.
Online resources.
Career long support.
Materials and resources
Self study guide.
Accelerated learning notes.
Course slide-decks.
Parthian shot story.
New ways to get referrals guide.
Quantified qualification assessment.
Quantified qualification visual analysis.
Top six customer questions worksheet.
Top six customer questions crib sheet.
How to Read People guide.
Profit contribution calculator.
Personality style assessment.
CLEAR rules for sales success - guide.
Dealing with budget secrecy guide.
Gaining access to decision influencers guide.
Sales Process Agreement Benefits
Discovery questions prompt template.
Discovery question examples.
Consultative Sales Training Delivery Options
One to One
View and download presentations, tools, templates, and other resources. The assigned coach arranges one-to-one training sessions to present or discuss the material and identify on-the-job learning actions. Training and coaching continues until the participants are satisfied with their learning progress. Session last one hour and are scheduled to suit participant needs.
£695 + applicable VAT. Add to cart or book places.
One to One on a per session basis.
£95 + applicable VAT. Add to cart or book places.
Via Online Group Training - Includes access to presentations, tools, templates, and other resources. Choose content priorities. Schedule 1 hour sessions to suit participant needs.
£180 plus applicable VAT per session. Book this training.
£590 plus VAT. Four week lead time. Book this training.
Follow on Virtual Classroom Group Training Sessions
Further one hour sessions can be arranged as needed.
£295 plus applicable VAT. Add to cart or book follow on group training sessions.
Traditional Classroom
The programme delivery takes place over one or more days at a conference venue or at the customers offices. The full account management skills course takes two days. Contact us for fees.
Guarantee
We unconditionally guarantee the quality and effectiveness of our services. In addition, we warrant that application of the principles, methods, and practices presented in our materials will lead to a gain in value equivalent to at least five times the fees. Should you decide that our services have not met this guarantee, we will refund your fees promptly and courteously.
If you are looking for consultative sales training or ways to develop consultative selling skills, we can help. Telephone +44 (0)1392 851500 for more information.  Alternatively use the contact form here or send an email to custserv@salessense.co.uk.