How to make online sales training, seminars, and webinars interesting and effective.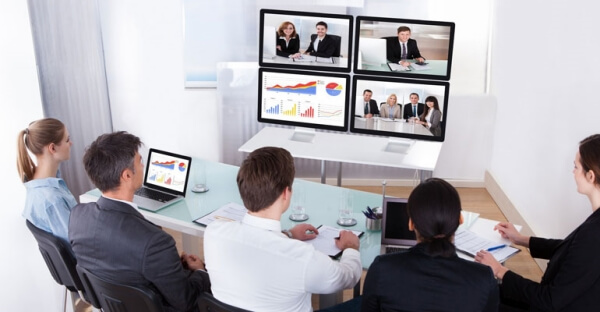 Teleconference training, online sales training, and use of webinars seemed to ramp up in the late 1990s. Several awful experiences of webinars run by a range of different large and small organisations encouraged us to think we could do better.
The idea of sales training being deliverable in bite sized chunks for a dispersed audience who could join from anywhere at any time, offers huge benefits.
We became pioneers, delivering training via a telephone conference call. We provided a slide deck in advance and allowed participants to keep in synch or browse as they wished. The venture was driven then, by a weakening business environment.
When the tech market crashed on the back of the .com collapse, closely followed by the 9/11 incident in 2001, our customers all stopped buying in unison. We urgently needed to find ways to deliver more value for less money.
Dividing up our classroom material enabled us to offer a range of modules lasting one hour. Limiting the number of people to small groups meant that we could maintain a dialogue that involved everyone. The sessions received good feedback and generated some much needed income.
Business recovered and we went back to delivering classroom based programmes and face to face coaching. Customers preferred the classroom format and so did we. It is much easier to read an audience and manage the ebb and flow of energy in a classroom setting.
In the summer of 2009, in the depths of the world wide recession, we once again found ourselves searching for new ways to deliver more for less and revived our interest in remote coaching and training.
The technology supporting online meetings had advanced significantly, presenting many new options. We spent a couple of months evaluating the choices including Webex, GoToMeeting, Skype, and several of the less well known solutions. The experience gained using the free trials led us to define our selection criteria as reliability, ease of use, VOIP, and video.
Having re learned the lessons of our early teleclass experiences and tested various ideas, we began offering a new way for sales teams and individuals to invest in training and coaching at a considerably lower cost.
Now customers can take part in learning programmes when it suits them. There are no travel requirements and learning can be paced to meet individual and group needs. Combining remote coaching and online sales training provides unprecedented flexibility that facilitates adoption of the ideal learning maxim – little and often.
If the quality of the chosen web conferencing solution is good and participants aren't mired in technology problems, it doesn't matter much which solution is used. It's the human input that determines whether an online session is worthwhile or not.
One of the great benefits of online meetings is that they rarely waste much time. After a couple of minutes of dullness, people just get on with other work. The online meeting can easily be relegated, turned down, turned off, or left alone in the corner of the screen.
If you are responsible for leading an online meeting, using the following tips will help you avoid setbacks, maintain participation, provide value, give attendees a positive experience of using the online medium, and save huge cauldrons full of time and money.
1. Limit the numbers to ten.
This might seem to exclude some of the uses of online communication such as company wide presentations, large scale webinars, and training classes for large numbers. It does and it should.
Free webinars are exchanged for contact details and the expression of interest in the topic. This is then presented to a sales team as a lead for whatever product can deliver relevant solutions. Those interested are attracted by the offer of free education on the topic and in some cases they are not disappointed, however the purpose is to collect leads.
Real learning is an accidental by product. Since it is free, there are no complaints if delivery is uninspiring. Attendees just tune out. The sponsor still has its sales leads.
If you are planning a one to many one way presentation, create a broadcast/podcast recording and invest appropriate forethought, planning and preparation to produce it properly. The resulting production needs to be at least as interesting as a good business audio book. Anything less and listeners will abandon the effort and get on with other pressing work.
The inclusive interaction that makes learning interesting and enjoyable in a classroom, cannot be easily achieved with large numbers using online collaboration tools. 
2. Ask participant about their expectations before the meeting.
You might skip this step if you know everyone who will be present, online meetings are a regular occurrence for the group, and group members feel free to provide feedback as they think it appropriate including during the meeting.
In all other circumstances, I recommend that you ask attendees about their previous experiences using the medium and their expectations for the meeting that you will be leading.
3. Create a clear and concise agenda.
Explains how the meeting will be run and what will be expected of the participants. Be sure to advise on any preparation they will be expected to have completed and any information that they will be asked to provide. Include a finish time.
4. Test the technology.
For one-to-one sessions where you have communicated this way before, it usually isn't necessary. Most online collaboration solutions work reliably once all parties have previously connected. If some haven't, it is wise to conduct a test or have them run any test software offered by the solution vendor.
If you intend to present to a group of people who gather in a single room and participate using a projector and an omni-directional microphone, a live test is a very wise precaution. Will your voice carry? Is the connection fast enough? Will you be able to hear the participants? The quality of omni-directional microphones and the acoustic qualities of rooms vary enormously.
5. Rehearse how you will share any documents.
Personally, I find that sharing my desktop is the most workable solution. This way I am using a familiar environment and I can add shortcuts to the desktop for everything I might want to use.
If I need to provide files for download, I have the option of allowing people access to a secure download page on our web site or using the facilities built into the collaboration tool.
Since I can create polls and questionnaires on our web site, I can take full control of these mechanisms of prompting interaction and gathering feedback. Alternatively, many collaboration tools include apps that allow similar interaction. 
Practise what you plan to do. Practice delivery so that you can control interactions while maintaining your dialogue or presentation flow.
6. Have a colleague control the presentation environment.
If you are planning a complex presentation with appropriate interaction, consider sharing out the tasks so that the presenters can concentrate on presenting.
7. Plan for an audience wide interaction every four minutes.
Anything less frequent risks participants tuning out. When you are part of a captive audience in a live presentation, the presenter can risk much longer intervals of one way communication because he or she can gauge attention and the audience can't easily leave.
In online sessions, the attendees don't need to leave. They can just turn the sound down and do other work. You will be none the wiser.
8. Protect enough time at the end of the meeting to present a summary.
Present the summary after the question and answer element. Include acknowledgement and thanks for all contributions.
9. Always send a follow up.
Use a follow up document to reiterate the summary and provides any supplementary material or links to where it can be downloaded. If you have recorded the session, include directions for obtaining or accessing the recording. 
This might seem like a lot of work for what should be a more efficient method of communication. The phrase, "If I had more time, I would have been briefer" has a ring of truth. Many great thinkers have expressed this thought including T. S. Elliot, Mark Twain, Ernest Hemingway, Benjamin Franklin and Blaise Pascal.
As demands on our time escalate, brevity will become a virtue. If online meetings are to prove effective, presenters will need to call on greater levels of discipline, forethought, planning, and preparation than they would have done for face to face meetings. Otherwise, this new domains potency may long remain diluted by its reputation.
It seems inevitable that more and more business meetings will be conducted this way in the future. For those prepared to embrace the change, the benefits are available now. Online sales training sessions and sales webinars can cut costs while increasing learning, development, and results.
Article by Clive Miller
If you are looking for ways to improve online seminars, webinar presentation, or online sales training, we can help. Telephone +44 (0)1392 851500. We will be pleased to learn about your needs or talk through some options. Send email to custserv@salessense.co.uk for a prompt reply or use the contact form here.