Using online business networking tools to obtain introductions and referrals for sales prospecting.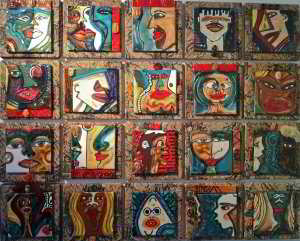 Successful online business networking depends strong links with others. It is 'who you know' that makes a difference when it comes to the right introductions. It always has been easier to reach a person who you don't know if someone he or she respects is prepared to make an introduction.
Using the six degrees of separation to aid sales lead generation depends on making best use of social media to find and develop connections with people. It is a small world. Each of us can reach anyone in the world (all seven billion souls) through a maximum of six others.
The six degrees of separation has been widely publicised and talked about. Scientific studies have demonstrated the truth of it. By way of letters, researchers asked people to forward a polite request to whoever amongst their contacts was most likely to know a particular person. They found they were able to get a message through to randomly selected individuals via only a few links. The calculated maximum distance between any two people in the world is 5.5, in terms of the number of links it will take to pass on a message.
As astonishing as this may be, it is not of much practical use unless you can identify the right links. If you were to ask any but your closest friends to give you a copy of their address book, you might expect to be refused. Although in conversation, few would deny an introduction to someone they knew.
Before the advent of powerful online business networking tools like LinkedIn, discovering your contacts contacts and finding out who they are connected with, where their contacts work, and what they do would have been a very time consuming project. Yet having this information would expand the number of those you can reach through intermediaries from a few hundred to tens or even hundreds of thousands.
One of the sales prospecting approach methods that we advocate for contacting senior executives in prospect organisations using a particular letter format that creates the opportunity for an effective follow up call. For companies who can express their value in definite, verifiable commercial terms, the approach is very effective. Perhaps surprisingly, the hard part is for companies and their staff to articulate their value and present it in a way that will win attention from busy senior executives.
Knowing someone who knows the person you want to reach and arranging an introduction, is a much easier route to starting a conversation. In fact senior executives rank an internal introduction to a sales person as the approach they are most likely to respond to.
If you knew someone who knew the person you wanted to reach, you might try this approach before beginning a cold call or letter plus call campaign. In most instances however, while you may have one or more common connections, you won't know who they are. 
Online business networking tools such as LinkedIn, Spoke, and Ryze offer the means to find out.
I had been a member of LinkedIn (www.linkedin.com), for a couple of years before realising what it could do. An unconnected book called Linked, explained the six degrees research and then I made the connection. This inspired me to actively develop my LinkedIn network. Apart from finding connections for lead generation, introductions, and referrals, using LinkedIn to demonstrate the principle in sales training workshops proved to be a very effective way of grabbing the participants attention.
I was a little anxious the first time I tried this but was delighted and more than a little surprised how well it worked. With LinkedIn projected live on the wall in front of a classroom of salespeople, I invited a participant to suggest a prospect company name to search on. After a couple of seconds a list of names appeared. These are all people linked through my LinkedIn network.  There on the screen, near the bottom of the list, appeared the name of a senior IT manager in the company we searched on. He was only two links away. In other words, one of my contacts knew him. This sparked a rush of requests for specific searches from the other course participants.
The LinkedIn system makes it easy to send invitations to members and non members. You can use your own words or standard messages. It also tracks who you have invited and provides an easy way to manage your invitations.
Because those I invite and the invitations I accept are people who I know and trust, I have been able to develop a high quality network. A rewarding aspect of spending a little time each week or month developing my network has been the rediscovering friends and colleagues I had lost contact with.
For lead generation, search for companies who are most likely to be interested in what you have to offer. Then use the tools to effect referrals and introductions. It is no-longer necessary to attend networking events to expand your professional connections.
Third party introductions depend on ability to write a compelling message that expresses clear benefit for the person you want to reach. If the end recipient is linked to someone you know, your message also has to convince each intermediary that it is important to pass your message on.
Online Business networking offers a viable alternative to a direct, cold approach. Constructing the right message is just as important for success with either method. It is a topic that warrants study, forethought, planning, and preparation. 'The old adage, "It's not what you know, but who you know," could, paradoxically, be the motto for the Information Age'.
Article by Clive Miller
Additional Resources
Sales Training - Social Selling for B2B Sales 
If you need to need to find more sales prospects using online business networking tools, we can help. Telephone +44 (0)1392 851500 for more information. We will be pleased to learn about your needs and talk through some options. Send email to custserv@salessense.co.uk for a prompt reply or use the contact form here.