Increase sales performance by 25% or more.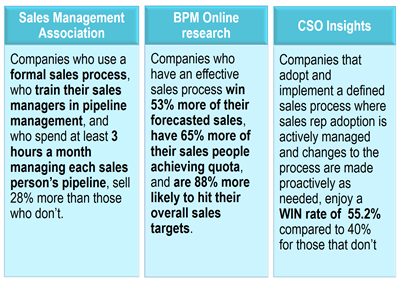 Outsourced sales effectiveness services pay a dividend.
Are your sales stages aligned with those of your customers typical buying process?
Are you measuring sales effectiveness in each stage?
How Sales Effectiveness Services Increase Sales
Establishing a sales process that is aligned with the common stages of the customer buying process and ensuring it is used, increases sales consistency, predictability, and performance.
The default sales stage settings in CRM software are not helpful if they don't align with a typical customer's buying process. 
First identify the common stages in the way your customers buy. Then make the CRM system mirror the buying stages.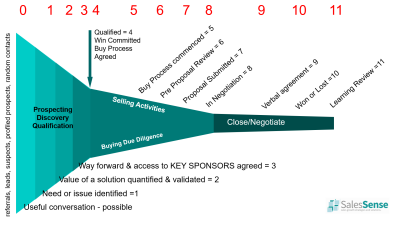 Measure the effectiveness of what happens in each stage. At the basic level this is the historical percentage of sales that close, in each stage. 
Historical data that can be broken down by division, department, team, and individual salesperson provides invaluable feedback.
Sales Team Feedback
Communicate stage based key performance indicators to salespeople and their managers to created an improvement incentive. People do what is measured.
Imagine how it would affect you in a sales role if knew how effective you had been in each clearly defined sales stage.
If a CRM system is to fulfil its promise, it must provide value to its users. Salespeople do want to know how they are doing at each stage compared with their peers. This alone may be enough to cause sales staff to make better use of the sales process and the CRM system.
The reason that many businesses don't do this is that gathering the data and presenting it in an effective manner demands off the job focus and time investment. 
Instead of diverting resources to do this yourself, have us provide you with the necessary temporary expertise and effort.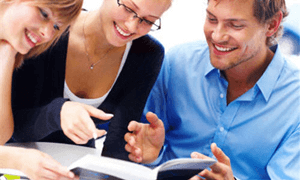 Sales Effectiveness Services:
Define customer buying stages, in-stage sales actions, and stage exit criteria.

Identify key performance indicators for each stage.

Gather historical pipeline data and establish a method for ongoing presentation and maintenance.

Facilitate or project manage CRM integration.

Propose pipeline management and forecasting method improvements.

Providing training and coaching as appropriate.
This would leave your staff free to focus on the day job of filling the funnel, progressing sales opportunities, and closing business.
If you lack the time or resources to improve your sales process, outsourced sales effectiveness services can help. Telephone +44 (0)1392 851500. We will be pleased to learn about your needs or talk through some options. Alternatively send an email to custserv@salessense.co.uk for a prompt reply or use the contact form here.