Score sales opportunities and quantify sales lead qualification.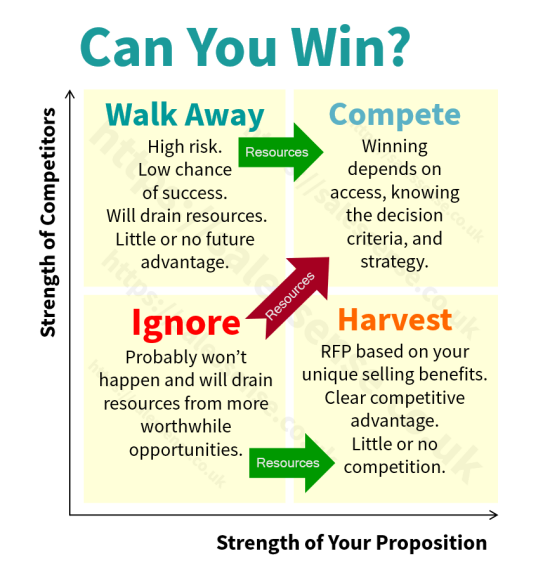 Use this free assessment for sales opportunity qualification and to predict the likelihood of winning a sale.
Quantify your chances of winning a particular sale.
Learn what you know and don't know, identify vulnerabilities, and then prioritise the next steps.
Eliminate the guesswork. Transform your sales opportunity qualification process into a reliable repeatable process and increase the likelihood of winning any B2B sales opportunity.
Learn more by scheduling a call with Clive Miller.
Win Predictor Instructions:
To quantify a sales opportunity qualification, score the following 14 statements for the sales opportunity in question. Enter a score between 1 and 10 to indicate the degree of truth in each statement.
Score low if the statement is not true at all or if you don't have any knowledge to judge if it is true and would be guessing.
Enter a middling score if you know the statement to be partially true.
Score high if you have certain knowledge that the statement is very accurate.
Make your score reflect reality.
The data is not recorded so you only have yourself to mislead.
| | |
| --- | --- |
| The customer is facing a serious problem or shortcoming that must be addressed to avoid unacceptable consequences. | |
| The costs and consequences of allowing things to remain unchanged are known and acknowledged by the customer's senior executives. | |
| All of the customer's senior executives who are impacted by the problem or shortcomings agree that action must be taken. | |
| We can offer a solution that can resolve part or all of the issues, problems or shortcomings. | |
| The customer has a budget or funding source that is sufficient to afford a solution that we can offer. | |
| The senior executives who are tasked with resolving the issues, problems, or shortcomings favour our solution. | |
| A written solution value analysis or costed business case has been compiled and accepted by the senior executives involved. | |
| The customer has shared or agreed on an evaluation plan that involves us, throughout their buying process. | |
| I have obtained the buying decision criteria and weightings and understand the decision priorities from the perspective of each important decision influencer. | |
| I have communicated with those who will be required to approve the purchase from financial and procurement perspectives and have understood what will be important from their perspectives. | |
| This sales opportunity represents worthwhile revenue and profit compared with the effort and time required to be successful. | |
| I know which competing solutions are being considered and why our solution will be chosen over the others. | |
| I am certain that the customer is competent to succeed with our solution. | |
| I am certain of my organisation's ability to deliver the solution I am selling. | |
| Total Score | |
Score Guide
Sales Opportunity Qualification
The likelihood of winning this deal at this point, corresponds with your score. A score of over 70 suggests you are either wildly optimistic or that you have a good understanding of the opportunity and have a reasonable chance of winning.
The higher your score, the more likely you are to win.
The low scores in your assessment are easily recognised on the chart and represent opportunities to improve your chances of winning the sale. 
What can you do to increase the low scores?
Schedule a call with Clive Miller, for a deal review.
If you need to increase sales performance, consider these suggestions:
Here are some suggestions:
No data entered on this page is recorded so if you want to keep your scores, save the chart to your device. For PC's, right-click on the chart and select save-as. For mobiles, take a screenshot.
If you have found this SDR assessment useful, add a comment below to encourage others.
If you need to improve sales opportunity qualification or conversion rates, we can help. Telephone +44 (0)1392 851500. We will be pleased to learn about your needs and talk through some options. Alternatively, send an email to custserv@salessense.co.uk for a prompt reply or use the contact form here.