Free sales training videos published on this site or embedded from other sources.
These sales training videos are just a sample of what can be found on YouTube. Use them for sales coaching, self-led learning, and sales skills development.
These days everyone is a video star. TV didn't kill radio, and radio never killed the newspapers so I doubt that free sales training videos will put sales trainers out of work. Browse the video nuggets below.
Selling Before the Internet - What Can We Learn
Clive Miller was interviewed for the Selling With Love Podcast by Jason Marc Campbell.
Visit the Selling with Love vlog here.
What Selling is About
Clive Miller, SalesSense founder shares some ideas on professional selling and a salesperson's purpose.
Smart Failure and Learning in a Fast-Changing World.
In this sales training video, Eddie Obeng explains why you must learn faster than before.
Accelerate Learning - First, discover what you don't know that you don't know.
Clive Miller, SalesSense founder presents the first in a short series of videos on accelerating learning.
Just Make That Call - Art Sobczak.
Do you put off lead generation, sales prospecting, cold calling, or even calling people you know? Try this for inspiration.
Start with the Why?
Have you been selling the wrong way around? Watch this presentation by Simon Sinek and make up your own mind.
Will Smith's Life Advice
Do you want to know what drives top performers in any sphere? This is Will Smith's way.
How to Succeed in Selling
Clive Miller explains the Sales Success Formula and how anyone can use it to develop a powerful sales process for any worthwhile product, service, or solution. The information is free. The effort of action and investment in the necessary forethought, planning, and preparation eludes almost everyone.
Want to help someone? Shut up and listen.
Watch Ernesto Sirolli reveal the ultimate secret of success in almost anything.
Find More Sales Leads
Clive Miller and Bryan McCrae discuss unusual ways to find leads and new business opportunities. You can have Clive present on this topic in a free sales training seminar.
Five Ways to Develop Your Team
Do you help staff develop the right skills and abilities? Does your manager know how to help you learn what you need to succeed? This short tutorial by Ed Muzio maps out the issues.
Do the Powerful People Want You to Win?
Build a Professional Sales Career course excerpt delivered by Clive Miller addressing the 'Can We Win' qualification question: "Are the important people for or against us winning?"
How to Interact Strategically
In this video, Edward sets out an excellent model for preparing to persuade. Use it to prepare for sales meetings and conversations. More from Edward here.
Video Interviews with Top Salespeople
There are many sales professionals who succeed well enough to satisfy their employers and a few top salespeople who consistently outperform the pack. Watch these interviews to learn their secrets.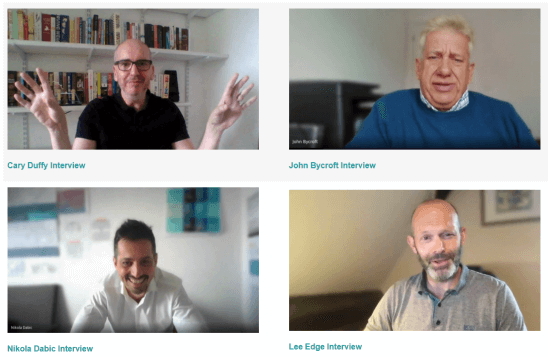 If you are looking for free sales training videos, sales coaching tools, or sales development support, we can help. Telephone +44 (0)1392 851500. We will be pleased to learn about your needs or talk through some options. Send an email to custserv@salessense.co.uk for a prompt reply or use the contact form here.