Selling is changing and many respectable surveys set out to identify and communicate B2B sales trends, yet they still seem to catch people and businesses unprepared.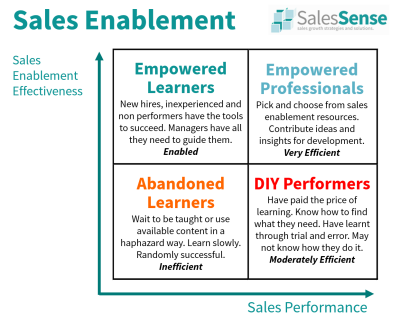 Here are a few of the commonly identified B2B sales trends from prominent reports:
1. Increasing competition
Buyers and competitors have increasingly easy access to information and competitors have easier access to markets.
2. Increasing complexity in the buying and selling process
Respondents cite more process and more people involved in the buyers journey. More choice has been shown to increase selection complexity, particularly when the degree of benefit is uncertain.
3. Declining average quota achievement
The 2017 CSO Insights report suggest a 16% decline in average quota achievement between 2012 and 2016. The report cites more informed and demanding buyers, economic and political uncertainty, and new disruptive technologies as the reasons.
4. The impact of sales enablement and effectiveness investment on results
Studies all indicate that investment in the creation and improvement of the tools and resources that salespeople need to do their jobs, together with the development and use of effectiveness frameworks, is more than recovered by improvement in performance.
5. The increasing impact of AI based applications
The use of AI has been advancing for decades. it seems certain that artificially intelligent software will replace some selling functions within a few years. Soon AI applications will be better able to identify selling opportunities than people. Conversation bots are increasingly able to satisfy inquiries.
How to Prepare for or Leverage B2B Sales Trends
Establish a continuous effort to:
Define and align customer buying journeys with the selling process.

Identify and create tools and resources that will save salespeople time, improve their effectiveness, and shorten selling cycles. This article offers a list.

Set up KPIs to continuously measure and improve the effectiveness of processes, tools, and content.

Set up a cadence of reviews to create momentum for continuous improvement
If these initiatives are to succeed, someone has to own the tasks and be responsible for the results. Quotas must include the expected increase in performance. Otherwise projects will be starved of resources and funding.
There should be joint responsibility for success. Those who own the tasks should be measured on business performance in the same way as salespeople. Both sellers and sales enablement people must have skin in the game.
Many larger organisations have dedicated enablement teams yet it is easy for them to become sidelined. If mangers and salespeople have to accept higher quotas in proportion to the sales enablement investment, they will pay closer attention to its effectiveness.
Other Pitfalls
Resources are purloined by product marketing to produce product training.

Staff have insufficient selling experience to have credibility with salespeople.

Managers take a short term or tactical view and therefore don't give enough attention to the strategic potential.

Too much reliance is placed on delivery technology and too little on producing effective tools and content.

The difficult tasks of providing factual proof of value, success stories, and case studies are not adequately fulfilled.
Smaller organisations may find it difficult to justify the cost of full time dedicated sales enablement staff. Those who take on enablement responsibilities as a secondary priority, are likely to have trouble allocating sufficient time. The day job must be done first and so secondary projects are often neglected.
There is no shortage of independent specialists who can fulfill part time or contracted roles. For independent providers, repeat business and recommendations are essential and so they are highly motivated to do an outstanding job.
Benefits of Investing in Enablement
More time is invested in strategic thinking that takes into account sales trends, generation trends, and new technologies.

New hires become productive faster because they are provided with the ready made prospecting aids and proof that what they are selling, delivers.

Managers will have a comprehensive set of tools and materials to support team member coaching.

Established salespeople will be able to improve their efficiency by increasing their opportunity conversion rate and reducing the length of selling cycles.

Better understanding of the customers buying journey leads to forecasting and business predictability improvements.

There is substantial survey evidence that effective sales enablement leads to significant increases in performance. An analysis of any particular environment quantifies the opportunity and reveals easily realised gains.

Better prospect definitions, customer buying process alignment, proof of value, and tested prospect engagement methods will be essential if businesses are to make good use of the coming AI applications. Those who have prepared, will be ready to take advantage of the productivity boost and cost savings that AI promises, before their competitors can.
I am fond of quoting Tom Peters when he wrote, "The only sustainable source of competitive advantage is getting better, faster than your competitors." Sales trends indicate what we should focus on to get the maximum leverage.
The best way to adapt for continuous change in selling is to keep pace with it or get ahead of it and overtake competitors. Make the process of getting better at selling, someones responsibility.
Article by Clive Miller
If you need to be better prepared to leverage B2B sales trends or justify sales enablement initiatives, we can help. Telephone +44 (0)1392 851500. We will be pleased to learn about your needs or talk through some options. Alternatively Send an email to custserv@salessense.co.uk for a prompt reply or use the contact form here.