Use sales optimisation to obtain a 30% competitive advantage.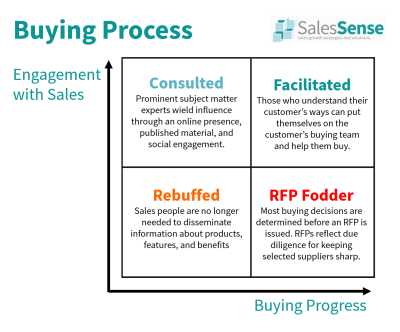 Selling is changing. The best performing sales teams will be organised and operated differently in the near future. Below is a list of emerging B2B sales optimisation issues that are driving change.
This is the first in a series of articles that describe endemic and emerging challenges presented in the list. Each article will examine both the causes and potential solutions.
Adapting for the way that buying is changing.

Selecting the right AI, software, and technologies for the future.

Achieving the promise of AI, software, and technology investments.

Increasing the teamwork and integration between marketing and sales

Establishing use of best practice in the sales process

Obtaining a reliably accurate sales forecast

Transitioning team organisation for sales optimisation 
Adapting for the Way Buying is Changing
It's no secret that buyers prefer not to speak with salespeople before there is a perceived value in doing so. Early engagement in a customer's buying process is increasingly difficult. Sales people are invited to the party later and later in the evaluation. 
Easy access to vast amounts of relevant information, know-how, and recommendations via the internet is the obvious reason for these trends.
Traditional salespeople have less and less value to offer those considering a purchase. The buying experience can be managed online, mostly without human intervention.
Those who have invested early in creating such seamless, flawless evaluation experiences, delivered through online interaction are ahead of the game.
Just like those who invested in an online presence long before it became an essential part of doing business, businesses who are investing now in online automated management of the customer experience are gaining a march on those who have yet to refocus their resources.
Automated Customer Engagement - A definition
Easily accessible illustrations of the issues or problems addressed by the products and services offered.

Short, clear, and factual examples of the results achieved from using the sellers offerings.

A way to experience use of the what is offered, without cost.

Guidance on the 

costs with examples.

A way to obtain documents that provide more in depth information.

The opportunity to engage with a real person who is knowledgeable about the issues or problems that are addressed.

The opportunity to receive updates on the application of the seller's products and services. 
While some of these automated customer engagement requirements may need some investment, all are easily achievable with current technology.
Is the end in sight for salespeople? Certainly not. Those who can add value through their in-depth use knowledge will continue to be effective at swaying customer choice. There will always be opportunities for intelligent specialisation. The science of sales engagement will become that of approaching the right people, at the right time, with the right message. 
AI can help achieve this in several ways:
Data collection of seller activities and successful customer engagement.

Data collection of customer size, demographics, and trends.

Sales optimisation from directing sellers to the most likely prospects, at the most likely times, with the right messages.
With real data from the first two perspectives and correlation with effectiveness from the third, AI can be used to gain more general insights to help steer enterprise decisions. Ken Krogue expands these ideas in this detailed Forbes Article.
Those organisations who have automated customer engagement and are learning how to use AI, are achieving sales productivity hikes of 30% or more over less progressive competitors. Catching up might require a substantial investment. Just as latecomers to the internet suffered, those who put off the investment are likely to pay a high price in terms of lost sales and missed opportunities.
It may seem like this article has ranged across issues 2. and 3. in my list of modern sales optimisation challenges however, there is much more to add.
In the second article in this series, I won't attempt to review all of the potential AI, software, and technology solutions currently available. Instead I intend to identify what you might want to look for when evaluating the options.
The third article will discuss the difficulties of getting the benefits - the potential 20% or 30% uplift in sales productivity that is available now, from making the right choices and investments in sales optimisation.
Article by Clive Miller
If you need to increase sales performance and want to invest in sales optimisation, we can help. Telephone +44 (0)1392 851500. We will be pleased to learn about your needs or talk through some options. Alternatively Send an email to custserv@salessense.co.uk for a prompt reply or use the contact form here.