Consultative sales skills training for selling consulting services.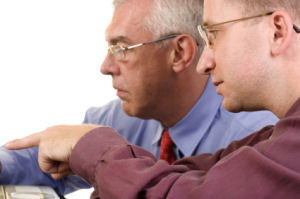 Selling consulting services or other intangibles presents an additional set of obstacles.
One-to-one delivery: £695
Per session one-to-one delivery: £95
Per session group delivery: £180
Training takes place in a virtual meeting.
Fees exclude applicable VAT 
You can't touch a consulting service, you can't photograph it, and you can't record it in your books as an asset. You can't even sell it on when it is no more use to you.
Selling consulting services is very different from selling products that take up space and have a tangible presence.
In this unique programme, learn how to sell the most valuable thing in the universe, know-how.
Programme Objectives
Get started without making cold calls.
Demonstrate expertise without giving up the know-how.
Speed up the process of developing trust.
Cause people to talk about their real issues.
Establish the value of intangible services.
Know if a customer will pay your price.
Gain access to all of the decision influencers.
Influence commitment to making a decision.
Have customers sell themselves.
Turn a sale into a collaboration.
Reduce or eliminate outcome uncertainty.
Learn how to initiate a dialogue about business without making cold telephone calls.
Acquire new ways to filter out time wasting opportunities and focus on business that can be won.
Win trust fast and shorten the time it takes to conclude a sale.
Prove that you have what the client needs without presentation or self promotion.
Transform a sale into a collaboration between experts to solve problems, address issues, or realise opportunities.
The programme is fun, challenging, and effective in helping those who need to sell their own expertise or that of an employer. The learning experience imparts a new confidence in ability to excel in selling consulting services.
Who should attend:
Consultants, engineers, scientists, and technical staff who need to sell services or know-how based solutions will learn how to become comfortable in selling situations. Salespeople used to selling tangible products who now have to sell less well defined solutions, will learn how to adjust their approach and bridge the gap.
Typical Participant Comments
Very useful insight into selling a service compared to a product. Excellent role plays which enable you to put what you have discussed into practice. Enjoyed talking around customer objections and how best to counter them. From Base Plus
Great content, pace, and delivery. Would recommend to anyone selling services. From J2 Interactive
Memory jerking. Eye opening. From UPS Systems
Additional Benefits
Flexible 'learning by doing' structured training.
Workplace assignments develop new habits and practices.
Tools, templates, frameworks, and examples save time and aid learning.
Common language improves communication and teamwork.
Promotes adoption of 'best practice' habits and methods.
Improves job satisfaction and motivation.
Increases results.
Selling Consulting Services Individual Delivery Options
One-to-One - View and download presentations, tools, templates, and other resources. The assigned coach arranges one-to-one training sessions to present or discuss the material and identify on-the-job learning actions. Training and coaching continues until the participants are satisfied with their learning progress. Session last one hour and are scheduled to suit participant needs.

£695 + applicable VAT. Add to cart or book places.

One to One on a per session basis.

£95 + applicable VAT. Add to cart or book places.
Via Online Group Training - Includes access to presentations, tools, templates, and other resources. Choose content priorities. Schedule 1 hour sessions to suit participant needs.

£180 plus applicable VAT per session. Book this training.

Traditional Classroom

The programme delivery takes place over one or more days at a conference venue or at the customers offices. Delivery of the full advanced sales training course takes four days.
Use this link for more information or to have us call you.
Large Numbers
Licensing and train the trainer options enable self delivery. To find out more, call or use the links below. Associate and Affiliate representation welcomed. To promote or deliver this course, get in touch directly.
Flexible Approach
If you are selling consulting services or looking for consultative sales skills training, we can help. Telephone +44 (0)1392 851500 for more information. We will be pleased to learn about your needs or talk through some options. Alternatively Send email to custserv@salessense.co.uk for a prompt reply or use the contact form here.