Choose the right employer from the best sales jobs available.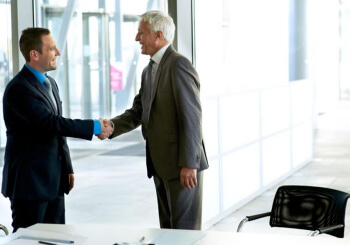 Selecting the best sales jobs and then choosing the right employer, leads to a more secure, more successful sales career. 
I don't intend this to be an incitement for people to up sticks and seek pastures new unless now is the right time. A good reason for changing employer is that you have run out of things to learn. Another is when goals are miss-aligned and neither party is willing to compromise.
The grass always APPEARS greener on the other side of the fence.
Had the goats in the fairy tale understood this, they might have avoided facing the troll altogether. 
As a sales manager, when recruiting salespeople I would discard CV's that had more than two short hops, back to back.
A 'short hop' meant two years or less with two or more companies consecutively. Although it is not necessarily true, the implication is that the person can't succeed in the role, has bad judgement, or is unreliable.
If you are changing jobs for better remuneration, make sure you know what will be expected of you. Whatever your reason, if you observe the suggestions below, you will be much more likely to find the best sales jobs.
Decide Whom You Want to Work For
If no obvious answer leaps to mind, write down the characteristics of the type of company you want to work for:
What industry or markets do they operate in?
Do you prefer a fast growth, fast changing environment or are you more interested in stability and safety?
Do you need to work in a disciplined environment or do you prefer the freedom to do it your way?
Should your ideal employer be a young start up or a mature established business?
What size is your ideal employer - how many people - how much profit?
Is ownership and funding important?
Create a profile of your ideal employer but keep it grounded in reality. Your profile needs to be sufficiently similar to real companies so as not to exclude everyone.
Use Your Network to Find the Best Sales Jobs
Now that you have a profile, conduct online research and use your network of contacts to identify a short list of potential employers who match your requirements. Not all the best sales jobs will be right for you.
Ask contacts who know you well, for suggestions about employers who they think would most benefit from your talents. This is a thoughtful question that few who had some knowledge of you would shrink from answering and the conversation may lead to introductions.
Most employers offer staff incentives for new hire introductions. In the upswing of an economic cycle you shouldn't need more than two or three companies who match your profile. If trading conditions are difficult, you may need to search out companies who are better placed to sustain growth or maintain their position in the face of a weak economy.
Do Your Homework
What are the target Company's goals and objectives for the next twelve months and what are their aims for the next several years?
How is the Company funded and who makes the decisions about goals and objectives?
What are the names of the executives and what are their records of achievement?
What is it like to work for them?
Ask this last question of any people in your network who are or were employed by the employer you are interested in.
Decide How You can Help
Write Down what you could do for a prospective employer in terms of meeting their goals and objectives, achieving new market penetration, and winning new business.
If your skills are in account management and your aim is to have this type of role, explain how you can protect and develop existing business.
Write down what you would actually do, step-by-step. Then explain why you will succeed in delivering the results you can promise.
Adjust Your CV
Customise your CV to emphasise your relevant experience.
If you are applying for every job that seems to offer more than you have now, rewriting your CV for each application will be impractical.
If you focus on attaining a position with a few selected employers or only apply for sales jobs where your experience and skills are better than an 80% match, some CV tuning is well worth the effort.
Adjusting the presentation of your history and experience will improve your chances of gaining an interview by. Don't miss represent the facts, just put your best foot forward in each case.
Introduce your CV
Write a brief covering letter that explains why you are particularly suitable for the position. If you have followed the steps above, this should be reasonably easy.
Follow up immediately
Demonstrate your ability to get through to senior people by making a follow-up telephone call within one working day. Be prepared to talk about your relevant experience. Construct a short and distinctive message to leave either verbally or on voice mail. Your purpose is to draw attention to your application. This alone may be enough to make your candidacy stand out.
Be Persistent Within Reason
Ask a two part question. Say, "I'd like to find out if my application is to be included in the selection process and if it is, what the process will be.
Prepare for the Interview
The interviewer's task is to eliminate candidates. Many fail to do this. Instead, they use their instincts to make up their minds.
Be ready to use your communication skills to adapt for the interviewer and create rapport. Look for opportunities to demonstrate your understanding of the Company's purpose, people, and culture by asking intelligent questions or explaining how you found the information.
Make yourself easy to interview and hard to turn down. Quote verifiable facts about your performance record and abilities. Provide proof that you know how to fulfil the promises presented in your communications by explaining how you fulfilled similar promises in the past. Use facts and evidence to support your proposal to raise your credibility and diminish any scepticism.
Exercise Choice
If you are already out of a job, you may be arguing that you don't have the luxury of choice. Pretend that you do. Desperation is the pre cursor to many a mistake.
The ability of interviewers and the techniques they use to assess candidates, vary enormously. Often, too much depends on first impressions and chemistry.
One thing is certain. When you face an interviewer, it is too late to prepare. Everything rests on the abilities and knowledge you have brought with you.
Article by Clive Miller
If you need to learn about selling to increase your credibility as a candidate for the best sales jobs, there are free resources on this site to support self development. We can also offer sales training and interview coaching, telephone +44 (0)1392 851500. We will be pleased to discuss your needs or talk through some options. Alternatively Send email to custserv@salessense.co.uk for a prompt reply or use the contact form here.