Teach yourself to plan for a discovery call.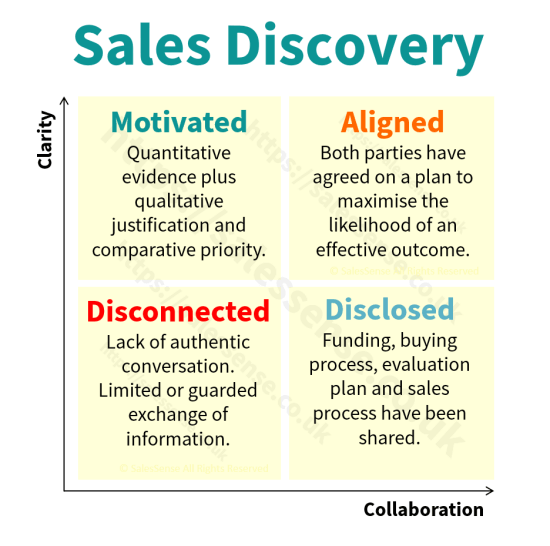 On Wednesday, April 1st, 2020, we began delivering a free B2B sales training course via bite-sized posts on the SalesSense LinkedIn company page. This page presents links to the posts in part seven - planning a discovery call or meeting.
Follow the links below to study the course. Follow the SalesSense LinkedIn company page. to see updates.
Course Contents
The complete course addresses the following B2B sales topics:
Map a typical customer buying process.
Define customer problems or situations that you fix or address.
Find sales prospects who need what you sell, right now.
Identify the right people in suspect organisations.
Start a conversation through cold outreach.
What to do if suspects don't engage.
Planning a discovery call or meeting.
Persuasive communication.
Negotiating access to those who can say yes.
Prompting a customer buying process.
Participating in a customer buying process.
Preparing an effective proposal.
Conducting buying negotiations.
Closing the sale.
Managing the customer relationship.
Have the course content delivered in part or in full, for individuals or for groups in sessions led by the course author.
Online Group Training Session - £180 plus VAT. Learn more.
One-to-One Coaching Session - £95 plus VAT. Learn more.
Follow the course by following our LinkedIn company page or by emailing freeb2b@salessense.co.uk.
Part Seven - Planning a Discovery Call or Meeting
Rule No. 1. - make no assumptions. 7.11
Rule No. 2. - declare your intent. 7.2
Consequences of assumptions. 7.21
Rule No 3. - don't talk about the solution. 7.3
Discovering issues - domino questions. 7.52
Consequences of inaction. 7.61
Who is involved in the decision. 7.62
Overcome access objections. 7.622
Discover decision-maker issues. 7.623
How to handle the price question. 7.64
Testing acceptance of the cost. 7.641
When they don't have the money. 7.642
When they do have the money. 7.643
The Advantage step in the CLEAR process. 7.7
Establishing a sales or buying process agreement. 7.71
The benefits of a sales/buying process agreement. 7.72
How to agree and document a sales/buying process agreement. 7.73
Testing your Advantage. Do you know these things. 7.8
Getting some favourable agreements before you begin helping the customer buy. 7.81
Planning an initial call or meeting - CLEAR summary. 7.9
Have all of this B2B sales training course or any element of it delivered for groups or individuals through online sales training sessions or one-to-one coaching. Call +44 (0)1392 851500 or email jimm@salessense.co.uk for details.