Teach yourself about prompting a customer buying process.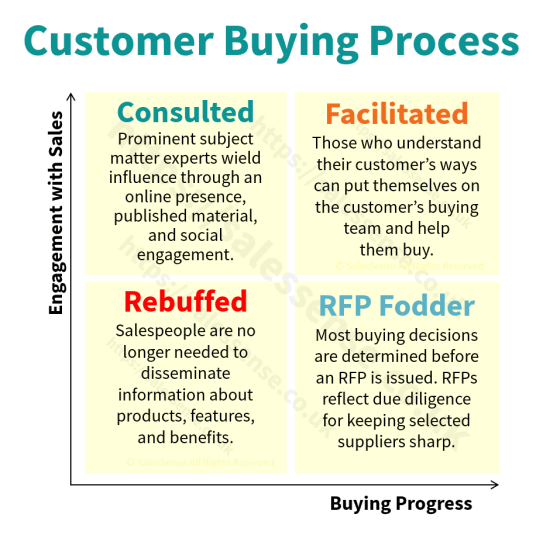 On Wednesday, April 1st, 2020, we began delivering a free B2B sales training course via bite-sized posts on the SalesSense LinkedIn company page. This page presents links to the posts in part ten - prompting a customer buying process.
Follow the links below to study the course. Follow the SalesSense LinkedIn company page. to see updates.
Course Contents
The complete course addresses the following B2B sales topics:
Map a typical customer buying process.
Define customer problems or situations that you fix or address.
Find sales prospects who need what you sell, right now.
Identify the right people in suspect organisations.
Start a conversation through cold outreach.
What to do if suspects don't engage.
Planning a discovery call or meeting.
Persuasive communication.
Negotiating access to those who can say yes.
Prompting a customer buying process.
Participating in a customer buying process.
Preparing an effective proposal.
Conducting buying negotiations.
Closing the sale.
Managing the customer relationship.
Have the course content delivered in part or in full, for individuals or for groups in sessions led by the course author.
Online Group Training Session - £180 plus VAT. Learn more.
One-to-One Coaching Session - £95 plus VAT. Learn more.
Follow the course by following our LinkedIn company page or by emailing freeb2b@salessense.co.uk.
Part Ten - Prompting a Buying Process
Prompting a customer or prospect to buy - overview. 10.1
Setting meeting or call expectations. 10.2
Prompting customer buying - step 1 - confirming the pain. 10.3
Step 2 - Confirming the business case. 10.4
Step 2 - Confirming the funding source. 10.41
Step 3 - Confirming a differentiated buying expectation. 10.5
Step 4 - Confirming the solution. 10.6
Step 5 - Confirming the evaluation plan. 10.7
Step 5 continued - Supplying an evaluation plan. 10.71
Step 6 - Confirming the initiation of a formal process. 10.8
Step 7 - The written confirmation of the whole discussion. 10.9
If you need to prompt a customer's buying process more often, get in touch. Have any element of our sales training content delivered for groups or individuals through online sessions or one-to-one coaching. Call +44 (0)1392 851500 or email jimm@salessense.co.uk for details or use the contact form here.