Sales Resources for coaching and skills development.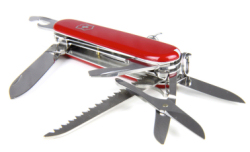 These sales resources are freely accessible by site visitors. Hover over the 'My Resources' menu link in the left hand column.
Sales Aptitude Assessment - Take this short assessment and compare your answers with those of successful sales people.
Sales Skills and Habits Assessment - Score thirty statements for instant feedback on selling skills, strengths, weaknesses linked to on-the-job actions.
Sales Knowledge Challenge - Do you have the knowledge? Take the challenge and find your gaps.
Work Motivations Assessment - Identify your leading and lagging work motivators and learn the affects in a sales role.
Sales Skills Gap Solutions - Comprehensive and straightforward on-the-job actions that aid success with current sales opportunities while developing knowledge, skills, and abilities.
The Sales Win Predictor - Rate fourteen statements with regard to a current sales opportunity to quantify the chances of winning.
Sales Video Channel - A collection of videos offering tips, advice and sales training.
Sales Management Practices Assessment - Compare practices with commonly acknowledged 'best sales management practices'.
Sales Operations Planning Assessment - Use this assessment to gage the sales readiness of an operation.
The Sales Success Formula - Free training covering a framework for maximising business and sales performance.
Additional Sales Club Member Benefits:
E-book - Currently the classic 'Think and Grow Rich' by Napoleon Hill.
Sounding Board - Expert Advice - Just ask and we will offer our best thinking on any issue.
Email updates - Be the first to learn about new resources on this site.
Join the Sales Club here. Membership is free. Register and login to access the additional resources via the 'My Resources' menu link.
Our occasional newsletter presents new thinking, relays the experiences of others, and proposes best practice established through working with top salespeople, sales managers and teams.
Sales articles, tips, and reviews include material from our training and coaching programmes. Guest material provides a third party perspective.
See Articles & Examples or our Sales Blog for additional content. Use the site search box above for specific topics.
If you are interested in these or other sales resources and would like to know more about SalesSense programmes, we will be pleased to speak. Telephone +44 (0)1392 851500 or send email to custserv@salessense.co.uk for a prompt reply or use the contact form here.