Teach yourself to sell with our free B2B sales training course.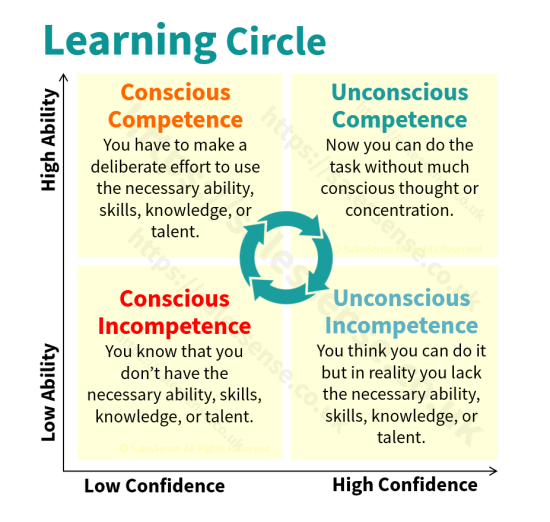 On Wednesday, April 1st, 2020, we began delivering a free B2B sales training course via bite-sized posts on the SalesSense LinkedIn company page.
Take the course using the links below.  Follow our LinkedIn company page for updates.
Have the course content delivered in part or in full, for individuals or for groups in sessions led by Clive Miller, the course author:
Online Group Training per Session - £250. Learn more.
One-to-One Training per Session - £150. Learn more.
Join our new 20-session one-hour-a-week scheduled course - £995
See the booking discounts available here.
What do you need to learn? Use our free sales quiz to find out.
Free B2B Sales Training Course Sections:
Tips for Teaching Yourself
Set clear goals: Start by defining specific and achievable learning goals. Clearly articulate what you want to learn or accomplish through self-teaching. This helps you stay focused and motivated throughout the learning process.
Design a structured plan: Create a structured learning plan that outlines the topics or skills you need to cover, along with a timeline for each. Break down the material into manageable chunks and set milestones to track your progress.
Gather learning resources: Identify and gather high-quality learning resources that align with your goals. These can include books, online courses, tutorials, videos, podcasts, or reputable websites. Utilize a mix of resources to get different perspectives and approaches to the subject matter.
Establish a learning routine: Consistency is key to self-teaching. Set aside dedicated time in your schedule for learning, and stick to it. Whether it's a few minutes each day or longer sessions a few times a week, establish a routine that works for you.
Practice active learning: Engage in active learning techniques to enhance comprehension and retention. Take notes, summarize key concepts in your own words, and create flashcards or mind maps. Actively apply what you learn through practical exercises, projects, or real-life scenarios.
Seek out feedback and evaluation: Look for opportunities to receive feedback on your progress and performance. This can be from peers, mentors, or online communities related to the subject you're learning. Feedback helps you identify areas for improvement and refine your understanding.
Stay motivated and disciplined: Self-teaching requires self-discipline and motivation. Find ways to stay inspired, such as connecting with others who share your interests, joining online forums or study groups, or tracking your progress visually. Celebrate milestones and achievements to keep your motivation levels high.
Embrace a growth mindset: Adopt a growth mindset that embraces challenges, setbacks, and mistakes as opportunities for learning and growth. Embrace the process of self-teaching as a journey of continuous improvement and embrace the learning curve.
Reflect and iterate: Regularly reflect on your learning experience. Assess what strategies or resources have been most effective for you and make adjustments as needed. Be open to trying different approaches or seeking additional resources if you encounter difficulties.
Stay curious and never stop learning: Cultivate a lifelong love of learning. Embrace curiosity and seek out new topics or skills to explore. The process of teaching yourself can extend beyond a specific goal and become a lifelong pursuit of personal and professional development.
Have us help you achieve learning momentum. Join our new scheduled one-hour-a-week professional sales career training course.
If you have the discipline of an autodidact, use our free B2B sales training course linked above. If you need more, have any of our B2B sales training courses or any element or any combination of elements delivered for groups or individuals through online sales training sessions or one-to-one coaching. Call +44 (0)1392 851500 or email jimm@salessense.co.uk for details.