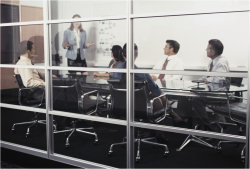 Develop or improve sales leadership skills through one-to-one, self-led, and small group training. 
Leading teams depends on the ability to motivate and inspire people, often through public speaking and one to many presentations. This course illuminates the sales leadership skills necessary to motivate teams through presence and command of communication skills.
Fees from £59 per person plus VAT if applicable. See the booking options below.
Get a more positive response from those who are already part of an endeavour. Sway outsiders who can help or hinder. Update your speaking and leadership skills by participating in this unique programme.
Training Objectives
Identify defining characteristics, habits, and practices of leaders.
Study outstanding speakers and how they inspire action.
Examine the part charisma plays in motivating others.
Increase personal impact and develop a greater presence.
Learn a range of techniques for gaining and holding attention.
Gather constructive feedback from peers and the course leader.
Ensure that meetings are harmonious, productive, and efficient.
Manage a press interview and have the things you choose reported.
Whether you choose to lead, or have leadership demanded of you, one thing in particular soon becomes alarmingly apparent. People take what you say to heart. They take more account of everything you say, and the precise way you say it.
One of the burdens of leadership is that you no longer have leeway for speaking half-formed thoughts. Rightly or not, others expect more of you.
Few people, even among senior executives, are naturally outstanding as motivational speakers. You can differentiate your company and stand out amongst peers by becoming the very best speaker you can be.
Small changes in audience perception can have a huge impact on response. Public speaking may be the only way you can directly influence many of your customers and perhaps some of your employees. You can win more mind share, more support, and more customers, through small improvements in your sales leadership skills.
Who should attend:
Directors and senior Managers who are called upon to lead others, persuade customers, influence public opinion, and motivate action.
Additional Benefits
Flexible multi session 'learning by doing' structured training.
Workplace assignments foster new habits and practices.
Tools, templates, frameworks, and examples save time and aid learning.
Common language improves communication and team work.
Fosters adoption of 'best practice' habits and methods.
Increases sales productivity, consistency, and results.
Improves job satisfaction and motivation.
Reduces staff turnover.
Sales Leadership Skills Training Individual Delivery Options
Sales Leadership Skills Training Group Delivery Options
Course Materials and Group Training for up to Ten People - Participants gain access to the course presentation, tools, templates, and other resources. Have key elements of the content presented. Learn how to prioritise the distance learning course content. Work through some of the exercises, and review implementation actions in a virtual classroom group coaching session. Schedule the session to suit participant needs The initial session duration is 90 minutes.

£590 plus VAT. Four Week Lead Time. Book this training.

Follow on Virtual Classroom Group Training Sessions - Further one hour sessions can be arranged as needed.

£295 plus applicable VAT. Add to cart or book follow on group training sessions.

Traditional Classroom - The programme delivery takes place over one or more days at a conference venue or at the customers offices. The full account management training course takes two days. Contact us for fees.
Use this link for more information or to have us call you.
Large Numbers
Licensing and train the trainer options enable self delivery. To find out more, call or use the links below. Associate and Affiliate representation welcomed. To promote or deliver this course, get in touch directly.
Want Something Different? Please Ask:
If you need to develop sales leadership skills, we can help. Telephone +44 (0)1392 851500 for more information. We will be pleased to learn about your needs or talk through some options. Alternatively use the contact form here or send email to custserv@salessense.co.uk.