How to improve sales proposals and win more bids. Sales proposal articles.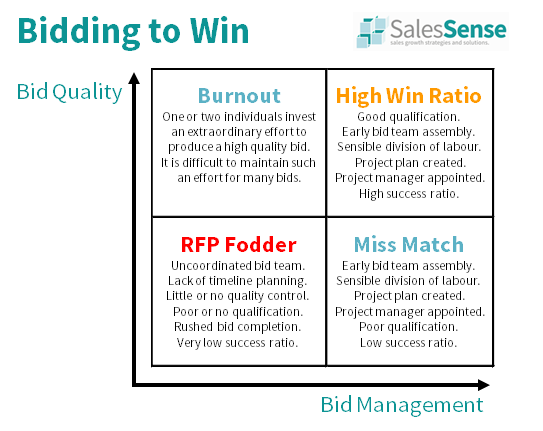 This page presents sales proposal articles, reports, and papers that help increase proposal, RFP, and bid win rates.
Huge chunks of time are wasted trying to win contracts by responding to public and private sector invitations to tender. The cost of bidding for high value deals is enourmouse and extreamly counter productive if the sales isn't won. This alone warrants a significant increase in the rigour with which RFPs are approached. This collection sales proposal articles set out best practice.
Browse the titles listed at the foot of this page or use the search box in the banner to find what you are looking for.
Learn best practice methods, tips, and short cuts for increasing interpersonal sales effectiveness. 
Subscribe here for new content news and updates.
Subscriber benefits includes:
Email updates.

Sales Aptitude Assessment feedback.

Sales Win Predictor suggestions.

e-book - currently Think and Grow Rich.

Sounding Board - free consultant advice.
Join the LinkedIn SalesSense Group and engage in a two way dialogue about important topics. Leave your thoughts for the enlightenment of other readers. Include links to relevant resources.
Visit our blogs for more: The SalesSense blog is focused on issues and news for those who sell technology, software, or know-how based business solutions:

SalesSense Blog
My personal blog free wheels to encompass a wider set of ideas and issues:

Clive Miller's Blog
Follow the links below to explore our archive of sales proposal articles or search this site for answers to any question. Don't miss out on regular content updates, sales articles, new ideas, and solutions. Subscribe for sales news.
We often publish guest articles about sales skills. If you would like to discuss any of our sales articles or suggest articles for inclusion, telephone +44 (0)1392 851500. We will be pleased to listen or review any articles that you put forward. Alternatively Send email to custserv@salessense.co.uk for a prompt reply or use the contact form here.