International Sales and the Middle Man is o
ne of the very few books on selling via distributors, resellers, and business partners.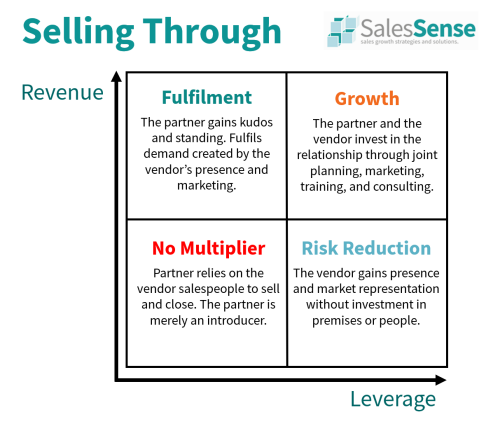 What a cracking book! There is very little authoritative material available to help those selling through distributors and indirect channels. 
International Sales and the Middleman explains how to overcome the challenges of selling through indirect channels such as distributors, resellers, dealers, and sales agents.
From time to time I look for books on the subject and had failed to find anything I felt relevant until a course participant on our Sales through Partners course recommended this book. 
John Griffin's book is the first really useful material on the subject that I have come across. It is a slim volume of 165 pages. John has written a direct, no nonsense, and insightful guide.
If you have a need to set up an international network of distributors or resellers, this book is well worth the hour or two it takes to read. It will save you from the pitfalls and help you succeed.
Not only is it informative, John injects an element of humour and relates many experiential stories.
I found myself reaching for a highlighter and jotting notes in the margins within a few pages, starting with the primary goal. "To fight for an unfair share of distributor sales time."
About John P. Griffin
John is a regional Managing Director of an American healthcare corporation. He demonstrates great understanding and insight into the trials and tribulations of running a distributor or operating as a middleman. He writes from the first-hand perspective and it is obvious that his observations, advice, and recommendations are drawn from extensive personal experience of working with overseas distributors.
This is a particularly revealing paragraph:
Initiation
"First, far too much intelligence, professionalism and enthusiasm is ascribed to the distributor. Time and again the contract or handshake is thought to be a starting pistol, and the supplier lies back in exhausted post-coital slumber dreaming of legions of dealer salesman swarming all over the territory detailing product and booking orders. Nothing could be further from the truth."
Griffin emphasises the importance of training by pointing out the likely behaviour of salespeople who don't know what they are talking about. IN most cases it is not to make stuff up, it is to avoid selling the product.
A chapter is dedicated to motivating the partner. It emphasises the necessity of enabling the partner to make money. On the face of it, this seems and obvious point yet as you read, it is quickly apparent that there are numerous opportunities for vendors to get partner motivation badly wrong.
If selling through partners and intermediaries is important to you, internationally or locally, get this book and study it. Even the seasoned indirect sales people among you will gain some new perspectives and ideas. I did. 
ISBN 1-85252-168-6
Review by Clive Miller
If you are selling through distribution or other indirect channels and need to increase sales, we can help. Telephone +44 (0)1392 851500. We will be pleased to learn about your needs or talk through some options. Alternatively Send email to custserv@salessense.co.uk for a prompt reply or use the contact form here.