Teach yourself about persuasive listening and writing.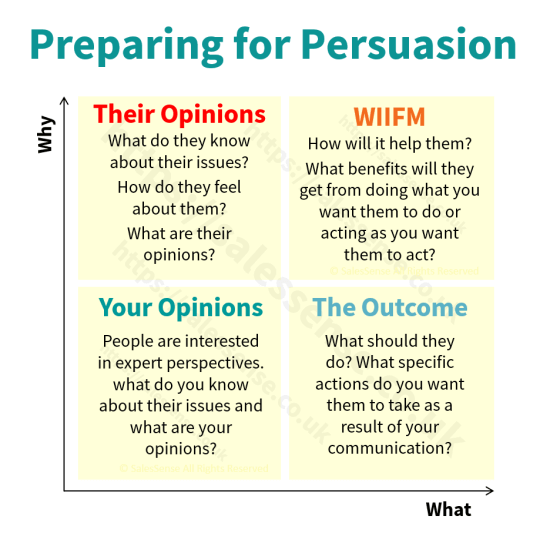 On Wednesday, April 1st, 2020, we began delivering a free B2B sales training course via bite-sized posts on the SalesSense LinkedIn company page. This page presents links to the posts in part eight (b) - persuasive listening and writing.
Follow the links below to study the course. Follow the SalesSense LinkedIn company page. to see updates.
Course Contents
The complete course addresses the following B2B sales topics:
Map a typical customer buying process.
Define customer problems or situations that you fix or address.
Find sales prospects who need what you sell, right now.
Identify the right people in suspect organisations.
Start a conversation through cold outreach.
What to do if suspects don't engage.
Planning a discovery call or meeting.
Persuasive communication.
Negotiating access to those who can say yes.
Prompting a customer buying process.
Participating in a customer buying process.
Preparing an effective proposal.
Conducting buying negotiations.
Closing the sale.
Managing the customer relationship.
Have the course content delivered in part or in full, for individuals or for groups in sessions led by the course author.
Online Group Training Session - £180 plus VAT. Learn more.
One-to-One Coaching Session - £95 plus VAT. Learn more.
Follow the course by following our LinkedIn company page or by emailing freeb2b@salessense.co.uk.
Part Eight (b) - Persuasive Listening and Writing
Listening persuasively - introduction. 8.4
Ways to listen attentively. 8.41
Suspend your agenda to listen persuasively. 8.411
Banish your thoughts to hear the thoughts of others. 8.412
Adopt an expectant state of mind. 8.413
Set aside all judgement. 8.416
Listen with all your senses. 8.418
Silently repeat what people say to you. 8.420
Trust yourself to remember what is important. 8.422
Take the time to review each call or meeting. 8.423
Listening persuasively summary. 8.424
Business writing skills - brevity. 8.51
Writing active sentences for brevity. 8.52
Start with an outline or list. 8.54
Put yourself in your reader's shoes. 8.55
Take into account the perspective of your readers. 8.56
Persuade with the rule of three. 8.58
Never send your first composition. 8.59
Non-verbal language reading shortcut. 8.61
Use a searchlight for reading non-verbal language. 8.62
Say it with non-verbal language, on purpose. 8.71
Project the right non-verbal language with 'Master Control' 8.72
Reading non-verbal signals in video calls. 8.73
Persuasive communication summary. 8.8
Have all of this B2B sales training course or any element of it delivered for groups or individuals through online sales training sessions or one-to-one coaching. Call +44 (0)1392 851500 or email jimm@salessense.co.uk for details.