Calculate sales training ROI (Return on Investment) with these steps: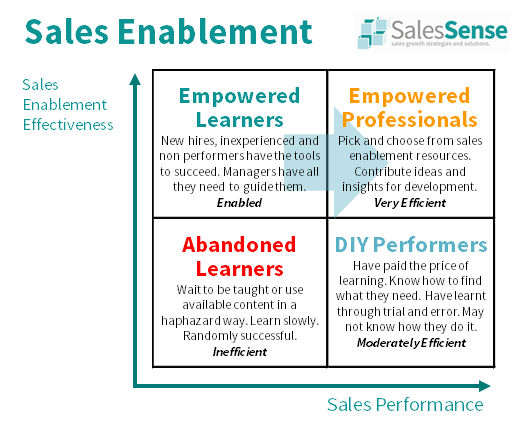 If you had confidence that sales training would increase sales enough to cover the cost and deliver additional profit, it would make sense to do more. The following explains how to include the missed opportunity cost in a sales training ROI calculation. We have also listed the less tangible benefits.
Follow the thinking:
Training participants need to sell less than 2% more to make up for two days away on a course.
Two days represents about 9% of a months selling time.
Using a monthly gross margin target of £20,000, 9% is £1800. This is the missed opportunity cost of the two days.
Assuming £600 as the cost of a typical two-day course and allowing £150 for a participant's expenses, the total cost is £2550.
This is just a shade over 1% of the £240,000 annual gross margin target used for this calculation. You can substitute your own real numbers including that actual missed opportunity cost, the training course cost, and the participants expenses.
If the training resulted in a 2% increase in sales, it would add about £5000 gross margin.
So sales training ROI for a 2% increase in sales performance is nearly 100%
Based on 234 working days in a year and dividing the selling effort equally among them, the missed opportunity cost of a day's training is 0.43% of the salespersons target.
Of course some training participants will increase their sales results, much more than 2%.
Sales training has many other benefits:
Seven more ways to calculate a concrete return on investment.
1. Morale
Does moral affect sales? All the research says 'yes'.
How is morale? How much does it affect sales performance? Use your experience to rank yours or your team's morale on a scale of 1 to 10 for each of the last six quarters then compare your estimate with results.
If you identify higher performance when morale has been high, halve the difference and halve it twice more to arrive at a suitably conservative estimate of the value of improving morale. Have others do the same exercise and compare results. 
Training lifts moral because people value the opportunity to grow and learn new ways to succeed and recognise the investment being made by their employer.
2. Prospecting
What is the new customer acquisition rate? Has it been higher? What has changed?
In a normal market, marketing generates more leads. In a downturn, marketing is less effective and starved of funds. Salespeople have a greater need to find their own leads.
What is the difference in prospecting activity between the best and the worst? Compare the number of new prospect contacts made by each person in a team to assess the difference between the most active and least active. How does this compare with new business results for each person?
In your estimation, how much could the gap be closed by training? If this led to a corresponding increase in business, how much would results improve? Halve your figure and halve it twice more to arrive at a conservative estimate.
Coaching and training removes or diminishes prospecting reluctance by providing solutions to the obstacles encountered in the effort.
3. Pipeline Management
Those in selling roles should know how many prospect contacts they must make to achieve their allocated target.
Determine how many contact events are necessary for a team to achieve its target through the following steps:
Take the average order value from last year (total revenue divided by the number of orders). Divide this year's target by the average order value from last year to determine how many orders must be booked this year. Adjust the result for any significant changes in pricing, products or services.
Calculate the contact event to order ratio for last year by taking the total quantity of prospect contacts made by all sales staff and dividing it by the number of orders won last year.
Multiply the number of orders needed this year by the contact event to order ratio achieved last year to determine the number of contact events necessary this year.
Finally, divide the total by the number of people in this years team to arrive at the average number of contact events that each salesperson should make.
Estimate the impact of monitoring and communicating call or contact rate results on business performance.
Training can explain the benefits of pipeline management and equip salespeople to apply it for themselves.
4. Qualification
Doing things right is a waste of time if we don't first choose the right things to do. Choosing the right prospects makes a major difference. Salespeople work much more efficiently if they avoid working on opportunities that don't happen, can't be won, or won't be worthwhile.
Compare the ratio of forecasted orders to won orders for all individuals in a team. What is the difference between the best and worst ratios?
In your estimation, how much could the gap be closed by training? If this led to a corresponding increase in business, how much would results improve? Halve your figure and halve it twice more to arrive at a conservative estimate.
Defining best practice qualification questions for your market and training salespeople to use them systematically, improves performance significantly because people spend more of their time working on opportunities that will happen, can be won, and will be worthwhile
5. Up Sell and Cross Sell
It is nine times easier to sell existing customers than new prospects. Are your customers realising the full potential of your products or services to help them succeed in their business?
Assess your top three customers use of your products and services. Rate their use on a scale of 1:10. If they squeeze as much profit as possible from using what you sell, rate them high - a 9 or 10. If they could make more or better use of what you sell, rate them lower.
Next, rate some of your less profitable customers. If there is a notable difference then you have identified a concrete opportunity to increase results through cross selling and up-selling.
Appropriate training can equip you or your team to realise this opportunity. What is the value of the difference? Halve it and halve it again to be safe.
6. Calling High
Do your salespeople have high level relationships within customers and prospects? If they had more, would they sell more? If so, how much more?
Select three customers where the salesperson has executive level relationships and compare the results with three similar customers where the salesperson doesn't have such relationships.
Training helps salespeople understand how to get the attention of senior executives and how to communicate to maintain the relationship.
What would be the value of two more high level appointments out of every ten prospects you approach? Ho much more would you expect to sell? Halve it and halve it again.
Training increases options, develops C-level confidence, and improves access success rates.
7. Trusted Advisor
If salespeople are trusted as advisors by their customers they have more influence and access. Some salespeople achieve this status with some customers. What is the value of a salesperson being considered a trusted adviser? Compare the results of people who have this status with those of people who haven't to estimate its value.
This ability can be taught. Training equips people with the understanding, methods, skills, and tools to achieve trusted advisor status.
Add up the value of all the potential estimated gains. If your total is more than a couple of percent of the teams sales then the sales training ROI is worth having. It ends up as hard cash in the profit line of the balance sheet.
Article by Clive Miller
If you need to increase sales and are unsure about the sales training ROI, we can help. Telephone +44 (0)1392 851500. We will be pleased to learn about your needs and talk through some options. Alternatively Send email to custserv@salessense.co.uk for a prompt reply or use the contact form here.