Sales presentation course for increasing influence, impact, and results.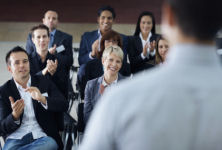 Take this sales presentation course to learn the secrets and reliable techniques of professional speakers.
One-to-one delivery: £695
Per session one-to-one delivery: £95
Per session group delivery: £180
Training takes place in a virtual meeting.
Fees exclude applicable VAT 
Develop extraordinary communication skills, improve presentation and public speaking skills, and increase sales performance. 
Participants take on workplace assignments in one-to-one or group workshop sessions. Then reconvene to review results, adjust their approach, and take on their next assignment. Training can be spread over several months or condensed into longer intensive sessions.
Key Takeaways
Never be anxious about speaking in public.
Convert anxiety into empowering energy.
Speak with confidence and enthusiasm.
Hold attention from first Words to closing comments.
Get an enthusiastic response every time you speak.
Make messages memorable and compelling.
Handle questions and interruptions with ease.
Use humour without risk.
Benefit from video, peer, and programme leader feedback.
Cause listeners to take action.
Typical Participant Comments
This was excellent, the presenter (Clive) was great at explaining, adapting stories to help you understand and at no point was I tired, bored or feeling it was irrelevant. A brilliant course.
Excellent overview of skills needed to enhance public speaking. Really enjoyed the opportunity to perform presentations. It wasn't as nerve wracking as I thought it would be.
A very informative, fun, and useful course. Very informative and delivered convincingly. I strongly advise everyone to take this course at the first opportunity. I learnt so much over the two days.
Programme includes:
Pre course questionnaire.
Pre work preparation guide.
Personalised workplace assignments.
Programme materials
Online resources
Career long support
Materials and resources
Self study guide.
Accelerated learning guide.
Programme slide-decks.
Voice warm up exercises.
Thinking style identification exercise.
Sensory language exercise.
Communication planner.
The Power to Speak - e-book.
Presentation videos.
Sales Presentation Course Delivery Options
One to One
View and download presentations, tools, templates, and other resources. The assigned coach arranges one-to-one coaching sessions to work through the material and identify on-the-job actions. Training continues until the participants are satisfied with their learning progress. Sessions last one hour and are scheduled to suit participant needs.
£695 + applicable VAT. Add to cart or book places.
One to One on a per session basis.
£95 + applicable VAT. Add to cart or book places.
Via Online Group Training - Includes access to presentations, tools, templates, and other resources. Choose content priorities. Schedule 1 hour sessions to suit participant needs.
£180 plus applicable VAT per session. Book this training.
Traditional Classroom
The programme delivery takes place over one or more days at a conference venue or at the customers offices. This is effective for three or more participants. Contact us for fees.
Guarantee
We unconditionally guarantee the quality and effectiveness of our services. In addition, we warrant that application of the principles, methods, and practices presented in our materials will lead to a gain in value equivalent to at least five times the fees. Should you decide that our services have not met this guarantee, we will refund your fees promptly and courteously.
Want Something Different? Please Ask:
If you are looking for sales presentation course or need to develop more effective sales presentations, we can help. Telephone +44 (0)1392 851500. Alternatively use the contact form here or send email to custserv@salessense.co.uk.