Prepare better presentations, increase presence, banish anxiety, and grow confidence with sales presentation skills training.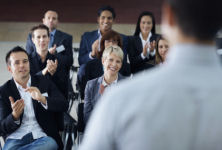 Join this course to have audiences remember your presentations as you want them to; have them remember your message and act on your advice. Take sales presentation skills training to master persuasive communication, one to many.
One-to-one delivery: £695
Per session one-to-one delivery: £95
Per session group delivery: £180
Training takes place in a virtual meeting.
Fees exclude applicable VAT 
Public speaking and group presentation opportunities offer an unrivalled chance to demonstrate merit. People remember how you spoke and came across. Sales presentation skills training increases confidence, develops communication skills, and impacts sales performance.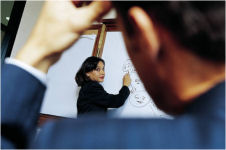 Discover your natural style, increase your impact, overcome anxiety, and develop outstanding sales presentation skills.
Feel confident speaking in front of any audience, transform the way people think about you, and influence audience actions.
It is not surprising that most people are apprehensive about speaking in public. When you stand up to speak every person in the room forms an opinion about you based on how well you perform.
Programme Objectives
 

Speak with confidence and enthusiasm.

Hold attention from first Words to closing comments.

Get an enthusiastic response every time you speak.

Make messages memorable and compelling.

Handle questions and interruptions with ease.

Use humour without risk.

Use reliable techniques to banish anxiety.

Benefit from video, peer, and programme leader feedback.

Cause listeners to take action.
Who should attend:
Those who occasionally have to present and want to increase their effectiveness as a presenter. Those who have a presentation to make and feel anxious, apprehensive, or worse about the prospect of standing up in front of an audience. Experienced presenters who want to refresh their sales presentation skills.
Additional Benefits
Flexible multi session 'learning by doing' structured training.

Workplace assignments develop new habits and practices.

Tools, templates, frameworks, and examples save time and aid learning.

Common language improves communication and team work.

Promotes adoption of 'best practice' habits and methods.

Increases sales productivity, consistency, and results.

Improves job satisfaction and motivation.

Reduces staff turnover.
Sales Presentation Skills Training Delivery Options
One to One - View and download presentations, tools, templates, and other resources. The assigned coach arranges one-to-one training sessions to present or discuss the material and identify on-the-job learning actions. Training and coaching continues until the participants are satisfied with their learning progress. Session last one hour and are scheduled to suit participant needs.

£695 + VAT if applicable. Add to cart or book places.
One to One on a per session basis.

£95 + applicable VAT. Add to cart or book places.

Via Online Group Training - Includes access to presentations, tools, templates, and other resources. Choose content priorities. Schedule 1 hour sessions to suit participant needs.

£180 plus applicable VAT per session. Book this training.

Traditional Classroom - The programme delivery takes place over one or more days at a conference venue or at the customers offices. The full account management training course takes two days. Contact us for fees.
Large Numbers
Licencing and train the trainer options enable third party and in-house provisioning of this course. To find out more, telephone +44 (0)1392 851500 or use the links below. Sales Associate and Affiliate representation welcomed. If you are interested in promoting or delivering SalesSense courses, get in touch directly or use the contact form here.
Flexible Support
If you need to arrange sales presentation skills training or improve sales presentations, we can help. Telephone +44 (0)1392 851500 for more information. We will be pleased to learn about your needs or talk through some options. Alternatively Send an email to custserv@salessense.co.uk for a prompt reply or use the contact form here.