Gain a reliable, repeatable, method for winning complex sales against superior competitors.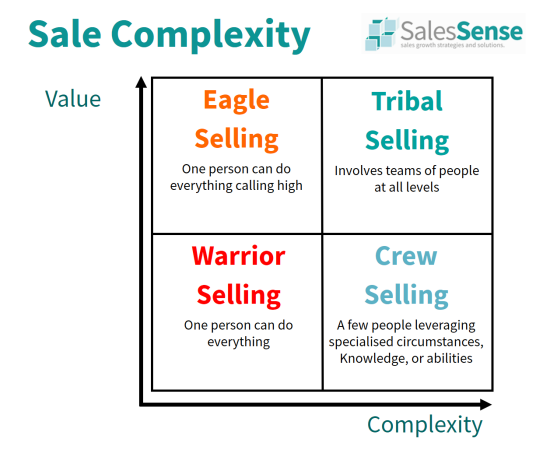 Winning Complex Sales provides a proven method for increasing success with high value, competitive business opportunities.
One-to-one delivery: £695
Per session one-to-one delivery: £95
Per session group delivery: £180
Training takes place in a virtual meeting.
Fees exclude applicable VAT 
Closing large sales from enterprise scale organisations depends on faultless planning and flawless execution by a team of people. Adopt a team based sales process for minimising the risks inherent in competing for high value sales.
Participants apply the process to current high value sales opportunities during the programme.
Learning takes place in a series of one to one or group sessions. Learning is applied between sessions so that results and experiences can be shared in subsequent sessions.
Training for winning complex sales can be spread over several months, condensed into longer intensive sessions, or delivered over consecutive days.
Key Benefits
Win more high value sales opportunities.
Increase productivity and save time.
Increase certainty and forecast accuracy.
Reduce or eliminate mistakes.
Anticipate and adapt for change.
Identify and influence the right people.
Out think competitors.
Use strategy to drive actions.
Shorten the sales process.
Typical Participant Comments
This is a 'just in time' course for improving our daily sales activities. The techniques taught are easy to understand and to apply in reality. This is a great course. From Motorola
An excellent mix of practical exercises and theory. Good examples for clarity, good pace and very good use of interpolation from the tutor. From Elyzium
Fast paced and relevant. Challenging for all levels of attendee experience. Good time keeping. Maintained interest and control throughout. One of the better ones. From Hand Held Devices (Now Honeywell Imaging and Mobility)
Programme includes:
Pre course questionnaire.
Pre work preparation guide.
Personalised workplace assignments.
Programme slide-decks, tools, and materials.
Online resources.
Career long support.
Materials and resources
Self Study guide.
Accelerated learning report.
Account plan template.
Opportunity plan template.
Short form opportunity plan template.
Profit contribution calculator.
Shared goal and objectives template.
Quantified qualification assessment.
Quantified qualification presentation template.
Personality style assessment.
Work motivators assessment.
Sales strategy matrix.
Deal clinic guide.
Winning Complex Sales Delivery Options
One to One
View and download presentations, tools, templates, and other resources. The assigned coach arranges one-to-one training sessions to present or discuss the material and identify on-the-job learning actions. Training and coaching continues until the participants are satisfied with their learning progress. Session last one hour and are scheduled to suit participant needs.
£695 + applicable VAT. Add to cart or book places.
One to One on a per session basis.
£95 + applicable VAT. Add to cart or book places.
Via Online Group Training - Includes access to presentations, tools, templates, and other resources. Choose content priorities. Schedule 1 hour sessions to suit participant needs.
£180 plus applicable VAT per session. Book this training.
Traditional Classroom
The programme delivery takes place over one or more days at a conference venue or at the customers offices. This is effective for three or more participants. Contact us for fees.
Guarantee
We unconditionally guarantee the quality and effectiveness of our services. In addition, we warrant that application of the principles, methods, and practices presented in our materials will lead to a gain in value equivalent to at least five times the fees. Should you decide that our services have not met this guarantee, we will refund your fees promptly and courteously.
Want Something Different? Please Ask:
If you need to increase success rates with high value complex sales, Winning Complex Sales provides sales method training that has proved effective for thousands of high value sales opportunities. Telephone +44 (0)1392 851500. We will be pleased to learn about your needs and talk through some options. Alternatively Send email to custserv@salessense.co.uk for a prompt reply or use the contact form here.