Channel sales training for alliance, distributor, reseller, and retail account sales managers.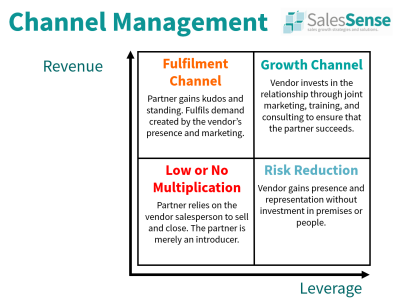 Learn how to take control of partner sales performance. Reduce time spent on non sales issues, improve predictability, and increase results with our channel sales training course.
One-to-one delivery: £695
Per session one-to-one delivery: £95
Per session group delivery: £180
Training takes place in a virtual meeting.
Fees exclude applicable VAT 
Selling ' through' is different from selling 'to'. Affecting results through a distributor, a reseller or a business partner depends on a different set of skills and habits. Channel sales training bridges the gap.
This course provides the elements missing from traditional, end user sales training and addresses the needs of channel account managers, distribution account managers, and alliance managers.
Request more information or have us call you with this link.
Build an effective and reliable sales channel, distributor, or business alliance. Create Partner loyalty and mutual success. 
Programme Objectives
Get more time with principals.
Establish trusted advisor status with senior executives.
Develop the loyalty that protects against competitors.
Increase the relationships strategic significance.
Identify the accounts that are worth extra effort.
Understand customer issues from their perspective.
Have partners keep their promises.
Develop partner knowledge and competence.
Motivate partner staff.
More than 74% of all alliance agreements including those with agents, dealers, resellers, distributors, and businesses partnerships, fail to achieve expected levels of business.
Partnerships are easy to start and very difficult to make work. Channel sales training provides account managers with the methods, tools and skills to develop lasting and profitable business partner relationships.
Gain a method for success and hundreds of ideas, tips, and procedures for helping partners succeed. Put learning to use immediately to push aside unproductive and unimportant work for tasks and actions that bring long lasting productivity improvements and increased results. 
Who Should Attend
All those who are responsible for setting up and maintaining B2B partnerships. Typical roles include agent managers, dealer and reseller account managers, distributor account managers, and business alliance managers.
Additional Benefits
Flexible multi session 'learning by doing' structured training.
Workplace assignments develop new habits and practices.
Tools, templates, frameworks, and examples save time and aid learning.
Common language improves communication and teamwork.
Promotes adoption of 'best practice' habits and methods.
Increases productivity, consistency, and results.
Improves job satisfaction and motivation.
Reduces staff turnover.
Channel Sales Training Delivery Options
One to One - View and download the course presentation, tools, templates, and other resources. The assigned coach arranges one-to-one training sessions to present or discuss the material and identify on-the-job learning actions. Training and coaching continues until the participants are satisfied with their learning progress. Session last one hour and are scheduled to suit participant needs.

£695 + applicable VAT. Add to cart or book places.

One to One on a per session basis.

£95 + applicable VAT. Add to cart or book places.
Online  Group Training

Have key elements of the content presented. Learn how to prioritise the distance learning course content. Work through some of the exercises, and review implementation actions in a virtual classroom group coaching session. Scheduled the session to suit participant needs. Sessions last 60 minutes.

£180 plus VAT. Add to Cart or book this training.

Traditional Classroom

The programme delivery takes place over one or more days at a conference venue or at the customers offices.

Contact us for fees.
Large Numbers
Licencing and train the trainer options enable third party and in-house provisioning of this course. To find out more, telephone +44 (0)1392 851500 or use the links below. Sales Associate and Affiliate representation welcomed. If you are interested in promoting or delivering SalesSense courses, get in touch directly or use the contact form here.
Flexible Support
If you are looking for channel sales training or need increase channel sales, distributor sales, or business alliance results, we can help. Telephone +44 (0)1392 851500. We will be pleased to learn about your needs and talk through some options. Alternatively Send email to custserv@salessense.co.uk for a prompt reply or use the contact form here.