Test familiarity and understanding of products, markets, customers, and the company with this sales knowledge assessment.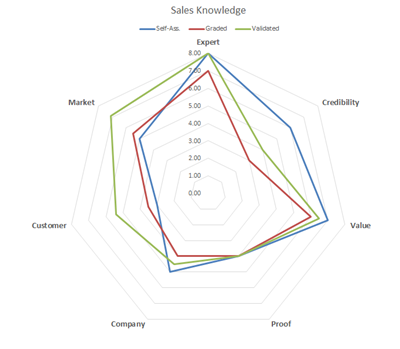 Investigate sales readiness and identify opportunities to extend sales knowledge. Have team members recognise gaps in their knowledge and understanding.
Persuasiveness rests first on connection with the emotional need for action. Then on the credibility of the information source.
The depth of knowledge and understanding exhibited by salespeople has a disproportionate impact on the credibility of a business. Those interacting with customers can easily demolish credibility established through branding and marking.
Ensuring that salespeople are using consistent messaging that matches or enhances the desired company positioning, improves conversion, shotens sales cycles, and increases results.
Assess response to important customer questions; review market understanding; explore customer knowledge, and test company or organisation understanding.
Score the effectiveness of each answer to reveal strengths and weaknesses.
Share answers with peers or managers for additional feedback.
Research the knowledge to fill gaps and increase scores.
Knowledge Assessed:
Answers to important customer questions
Market and industry understanding
Customer and prospect understanding
Employer understanding
Value articulation
Writing skills
Identify strengths and weaknesses, opportunities and vulnerabilities. Use the accompanying guides to expand sales knowledge and develop more effective answers to common customer questions.
Assessment Applications Include:
Sales Knowledge Audit
Knowledge Development
Coaching Guidance
Training Needs Analysis
Interview Preparation
Sales Training
Appraisals
Selection
Includes:
Sales Knowledge Assessment
Represented Assessment Results
Common Customer Questions Response Worksheet
Customer Questions Response Guide
Market, Customer, and Prospect Research Guide
Optional Validation Review
Have responses reviewed by an accredited coach in a telephone interview and receive detailed written feedback.
If you need to improve product knowledge, market understanding, customer understanding, or company awareness, sales knowledge assessment can help. Telephone +44 (0)1392 851500 for more information. Send email to custserv@salessense.co.uk for a prompt reply or use the contact form here.