Business development manager training course. How to find and engage the right sales prospects.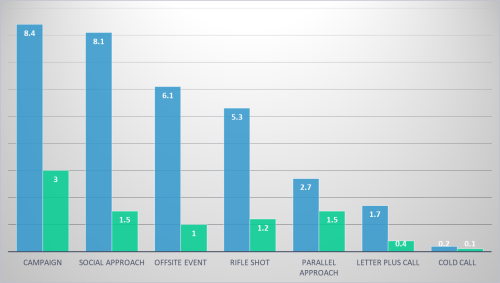 Sales Prospecting - Approach Tactics
Integrate proven techniques with the new methods and only call people who need what you sell, right now. Sales prospecting training.that leverages the best of the old and the reach of the new to accelerate new customer acquisition.
One-to-one delivery: £695
Per session one-to-one delivery: £95
Per session group delivery: £180
Training takes place in a virtual meeting.
Fees exclude applicable VAT 
The twentyfirst century has brought huge changes to selling yet many old principles remain the same. Getting the attention of executives and initiating a meaningful business dialogue remains the most challenging sales task.
The ability to make new connections when the time is right is the most sought after selling skill. Nothing else presents such awkward obstacles, yet there are tried and tested methods for getting the attention of decision makers, engaging them in a business conversation, and setting up sales calls.
Course Approach
Action is the key to learning progress. All of our business development courses are organised around this principle. Participants are invited to identify their current process, the obstacles that impede success, and the relative importance of overcoming each obstacle. Then the course content provides frameworks for developing new methods and practices that embed learning in workplace practices.
Approach Benefits
Maximum buy in from the participants.
Practical actionable implementation framework for your environment.
Allows the trainer to seed ideas, use cases, and tools without being prescriptive.
Provides complete programme flexibility without compromising objectives.
Results in behavioural change, improved business predictability, and increased sales results.
Take this learning programme to acquire today's best practices, methods, and habits and gain the most saleable skill in the commercial world.
Sales Prospecting Training Course Objectives
Find prospects who want to buy now.
Identify the true decision makers.
Understand senior level decision making.
Learn the seven approach tactics.
Prepare better messaging.
Develop better questions.
Explore sales behaviour from the customers perspective.
Do and say the right things.
Who Should Attend:
Business development salespeople tasked with winning new business; account managers who need more access to senior managers and directors, and Managers who want to develop their teams sales prospecting skills.
Additional Programme Benefits
Flexible multi session 'learning by doing' structured training course.
Workplace assignments develop new habits and practices.
Tools, templates, frameworks, and examples save time and aid learning.
Common language improves communication and team work.
Promotes adoption of 'best practice' habits and methods.
Increases sales productivity, consistency, and results.
Improves job satisfaction and motivation.
Reduces staff turnover.
Sales Prospecting Training Delivery Options
One to One - View and download the presentations, tools, templates, and other resources. The assigned coach arranges one-to-one training sessions to present or discuss the material and identify on-the-job learning actions. Training and coaching continues until the participants are satisfied with their learning progress. Session last one hour and are scheduled to suit participant needs.

£695 + applicable VAT. Add to cart or book places.

One to One on a per session basis.

£95 + applicable VAT. Add to cart or book places.
Via Online Group Training - Includes access to presentations, tools, templates, and other resources. Choose content priorities. Schedule 1 hour sessions to suit participant needs.

£180 plus applicable VAT per session. Book this training.

Traditional Classroom - The programme delivery takes place over one or more days at a conference venue or at the customers offices. The full course takes two days. Contact us for fees.
Large Numbers
Licensing and train the trainer options enable self delivery. To find out more, call or use the links below. Associate and Affiliate representation welcomed. To promote or deliver this course, get in touch directly.
Want Something Different? Please Ask:
If you are  looking for sales prospecting training, need to find a business development managers course, or start more sales conversations, we can help. Telephone +44 (0)1392 851500. Alternatively use the contact form here or send email to custserv@salessense.co.uk.