Thank you for requesting a copy of the Sales Professionals Toolkit. We have sent you an email containing a link to the download page.
If you have arrived at this page without requesting a copy of the Sales Professionals Toolkit, you can do so here.
How to use the Sales Professionals Toolkit to accelerate on-th-job learning, improve professional selling skills, and increase sales performance: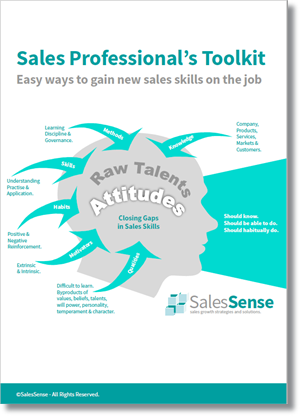 Review the assessment index and jump to those elements that align with your needs or start at the beginning and work through all the assessment questions. Score your sales knowledge, practices, and skills on a scale of 1 to 10 for a series of 30 sales competency statements. It takes less than ten minutes if you don't answer the evidence questions.
As you work through the assessment, you can follow the links directly to recommended on-the-job actions or complete the assessment and then review your strengths and weakness before deciding which aspects of sales competence to explore first. 
If your scores are high - 6 to 10, validate them by answering the evidence questions associated with each assessment statement. This may prompt you to adjust your self-assessment score.
Working on strengths is usually more productive than working on weaknesses because your strengths will be the things you like doing. An exception to this rule should be observed when a weakness might lead other people to think you incompetent. If this is the case, give the weakness some urgent attention. You may find that the on-the-job actions are more palatable than you expect.
You can skip the assessment and explore the on-the-job actions directly from the table of contents. They are grouped to align with the ten elements of the assessment. Follow the links that correlate to strengths that you want to enhance and weaknesses that you want to address and then review the development actions. List the actions that you want to make use of and then prioritise your list to create an action plan. Act on the plan immediately and begin making a habit of working on your abilities.
Learning is the single greatest investment in your own success that you can make. It is the one area that is not affected by luck, circumstances, the decisions of others, or external events. Improve your professional selling skills and create lifelong value. 
If you need to improve professional selling skills and methods, accelerate learning, or start a performance improvement programme, we can help. Telephone +44 (0)1392 851500. We will be pleased to discuss your needs or talk through some options. Alternatively send email to custserv@salessense.co.uk for a prompt reply or use the contact form here.