How to conduct sales performance evaluation when results fall short of expectations.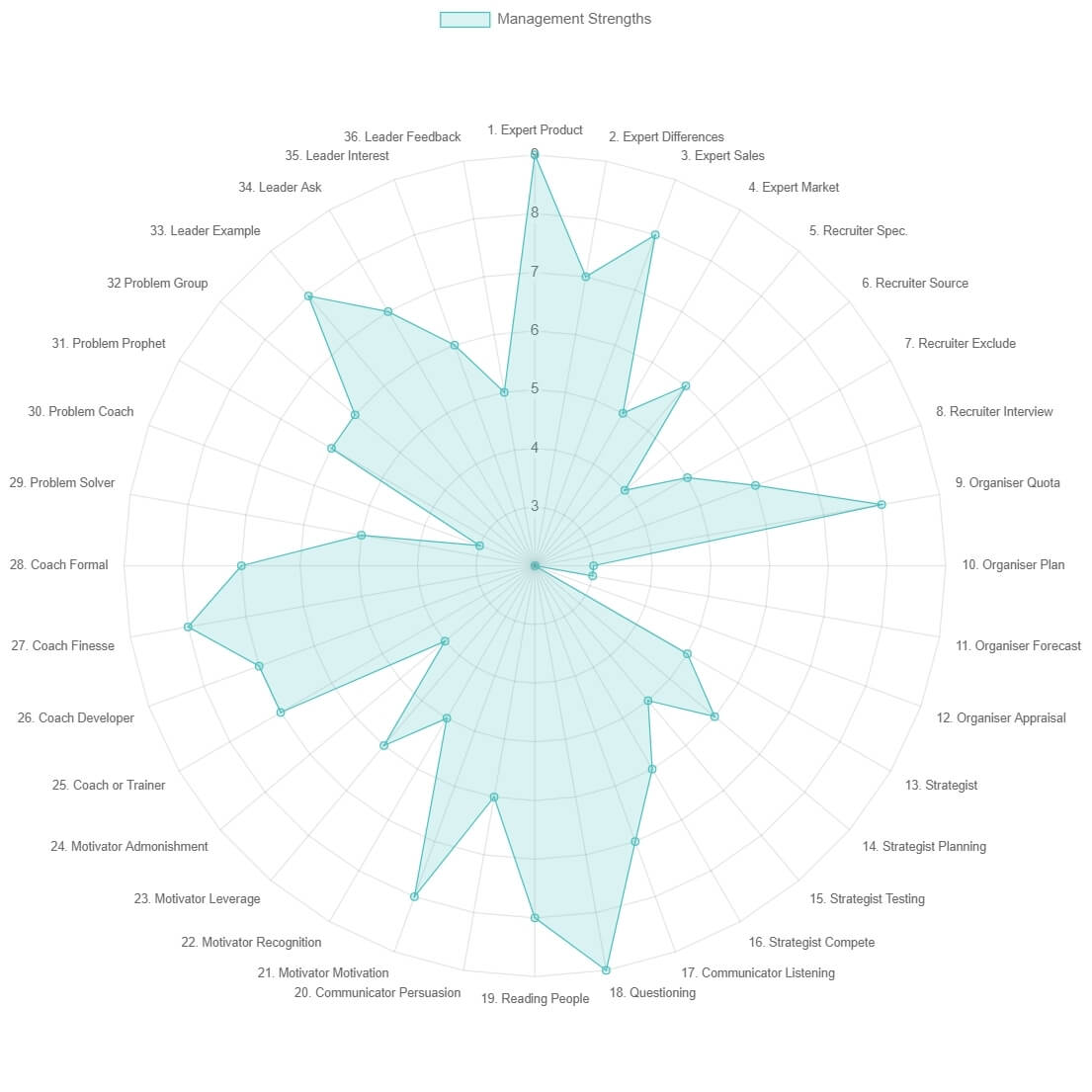 When targets are missed, sales performance evaluation to identify the underlying causes becomes an urgent priority.
Take a shortcut. Use our assessments to review all aspects of a sales operation.
Re-examine the fundamentals.
Any uncertainty in the answers to these questions reveals opportunities for improvement.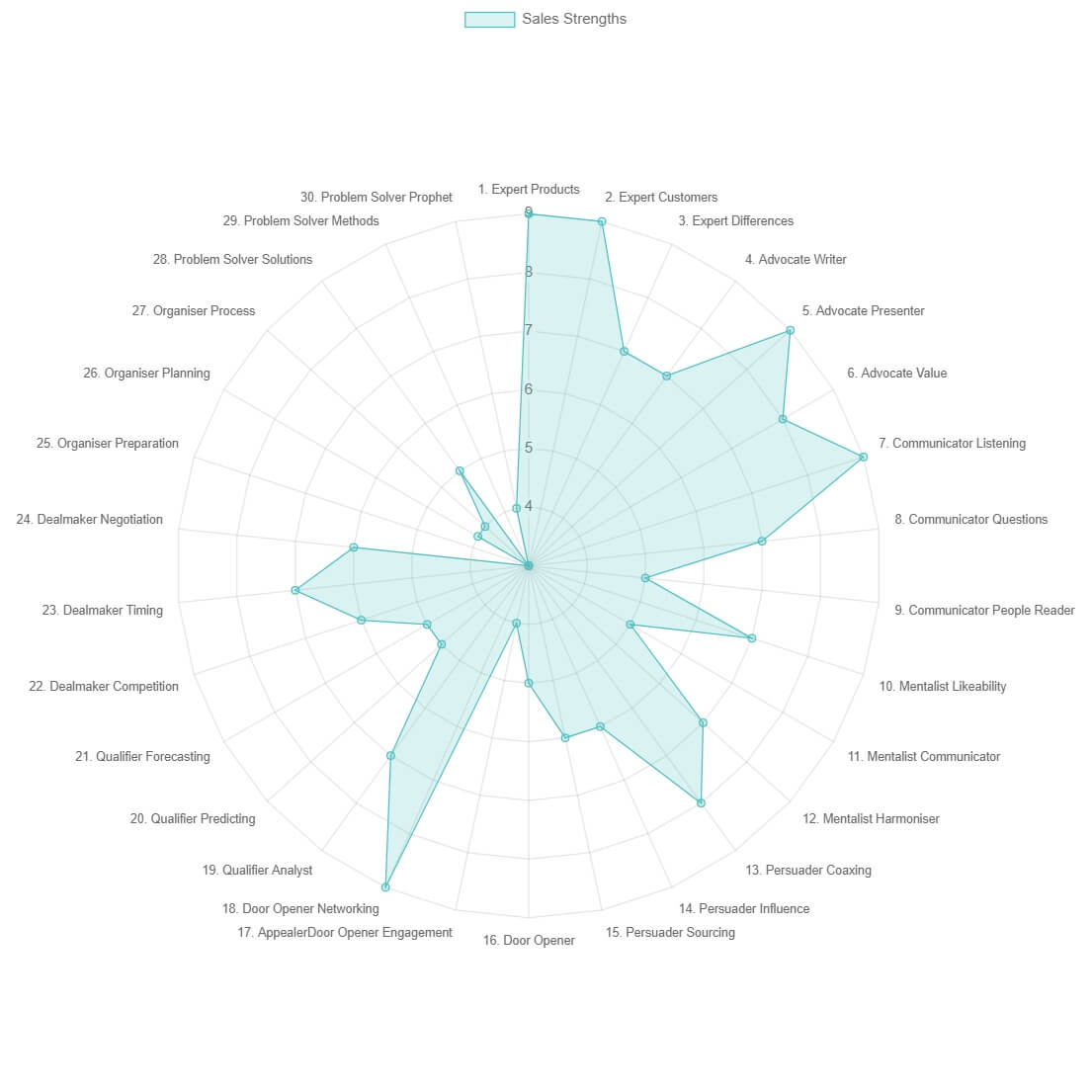 Sometimes external causes are obvious and their impact affects everyone's results. It is important to quickly determine if a shortfall is due to external changes or because of internal shortcomings.
For new salespeople who are still learning, or where an unproven territory is involved, it can be very difficult to understand the root cause of poor sales.
Takes a shortcut.
Have us carry out an audit.
Managers can evaluate sales performance without having the salespeople take assessments by using them to benchmark the knowledge, skills and habits of team members.
Sales performance evaluation reveals improvement opportunities.
Left alone, things might turn around without intervention however, sales managers must answer the inevitable questions asked by CXOs and stakeholders.
They will be asked why the shortfall occurred and what they are doing to turn things around. External circumstances and events are rarely accepted as justification.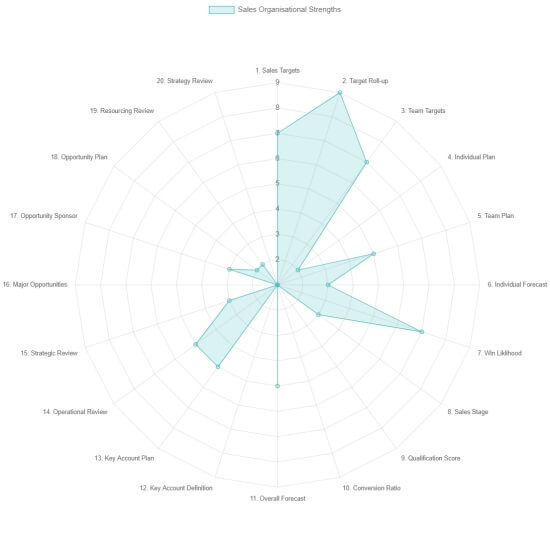 Having already acted or having plans in place to address the issue, assuages concerns.
When you know what needs doing but lack the resources to get it done quickly, get some temporary help.
An objective review of sales management practices can be sufficient to reveal opportunities for improvement.
Evaluating sales performance offers an analytical approach for diagnosing sales issues.
The assessments use a competency-based statement technique that examines skills, abilities, habits, and practices. There are no psychometrics involved. The method is transparent and easy to understand for both assessed and assessors. The evaluation questions provide a comprehensive appraisal resource.
Optional grading or validation of assessment results offers confidential consultant feedback.
Assessments for Performance Evaluation and Benchmarking
Assessment Benefits
Customer-facing staff are prompted to examine their strengths and weaknesses. They learn about strengths, address weaknesses, and discover learning strategies. Improvements feed through to increased results.
Managers acquire a structured, factual, non-judgemental set of performance appraisal questions that support effective feedback and coaching.
Feedback and site resources present development recommendations. Managers gain resources that support coaching and can be used to begin making improvements immediately.
Managers gain an additional means of measuring staff effectiveness. Results alone don't provide improvement indicators.
Self-assessments and reviews help managers and participants complete performance appraisals.
Having new-hire prospects complete assessments reduces hiring mistakes. Interviewers can use our sales performance evaluation tools to guide interviews and ensure that abilities are carefully and objectively assessed.
Assessment Applications
Maximising Sales Productivity and Results

Assessment results help managers move team performance towards the optimum by providing specific, evidence-based pointers for improvements.

Guidance for Individual Development

Assessments identify and quantify opportunities for development. Scores provide a sound base for individuals and their managers to discuss and prioritise a development plan that will lead to increased competence, rising performance, and personal growth.

Training Needs Analysis

As a means to determine training priorities, the assessments and reviews eliminate the guesswork and provide a quantitative and qualitative evaluation of strengths and weaknesses.

Recruitment and Selection

Testing is a practical means of improving hiring consistency and reducing hiring mistakes. Having candidates take assessments provides feedback that can be used to guide an interview. Reviews provide a set of supplementary questions that reveal skills, habits, and competence.

Giving People the Right Assignments

The assessments deliver a practical and efficient way to answer the question, "Who is most suited for a particular assignment"? No two opportunities or customers are the same. Making assignments based on individual suitability offers another way to maximise team productivity.
If you need tools for sales performance evaluation, developing sales staff or increasing sales effectiveness, we can help. Telephone +44 (0)1392 851500 for more information about our sales performance appraisal questions. We will be pleased to learn about your needs or talk through some options. Alternatively, send an email to custserv@salessense.co.uk for a prompt reply or use the contact form here.